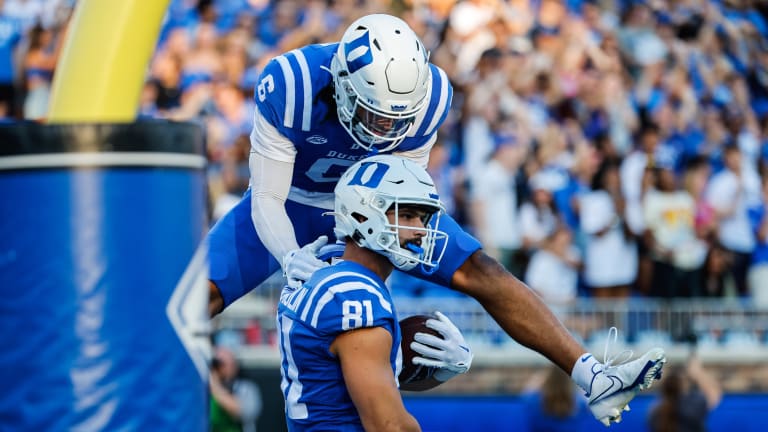 Fact or Fiction: Surprise Undefeated Teams, Michigan, Julian Sayin
In today's Fact or Fiction, I look at three big recent topics in college football and decide whether the statement is indeed FACT or if it's FICTION.
---
1. The undefeated basketball powerhouses are a mirage.
Farrell's take: FACT
How crazy is this? UNC, Duke, Kentucky, Indiana, Syracuse, UCLA and Indiana are all undefeated in college football. Other undefeated schools with more hoops success than football historically include Wake Forest and Maryland, A few of them have to fall this weekend right? The Terps should get clobbered by Michigan this weekend (see below) and Wake will likely fall to Clemson. But the rest? Syracuse could beat Virginia Friday night at home with ease, UNC could fall to Notre Dame but they are favored. Indiana has a tough test against Cincinnati while Kentucky and UCLA have layup wins this weekend against Northern Illinois and Colorado respectively. Duke and Kansas play so one will surely fall. But are all these teams for real? Not a chance. Each have their issues and we know all will have bad games. Ranking them in order I'd go 1) Kentucky 2) UNC 3) UCLA 4) Syracuse 5) Kansas 6) Duke 7) Indiana but only Kentucky has a chance to make national waves.
---
2. Michigan will be exposed this weekend.
Farrell's take: FICTION
Nah. Maryland has a solid offense but Michigan is much more balanced as a team and their power running attack will wear down a depleted Terps offense. This could be fun into the third quarter but the Michigan defense will solve the Terps offense in the second half and just outman then to a 17 point win.
---
3. LSU takes the momentum from Georgia for 2024 5 star QB Julian Sayin this weekend.
Farrell's take: FICTION
A win over New Mexico is a given for LSU so Sayin will have a good follow up visit from the summer trip that opened his eyes. But let's be real. Georgia has been the leader for the California recruit for quite some time and LSU is the biggest threat but not much of one unless my sources are wrong. He will take his time and visit a few more schools and likely see these programs again but my Farrell Forecast is on Georgia here.