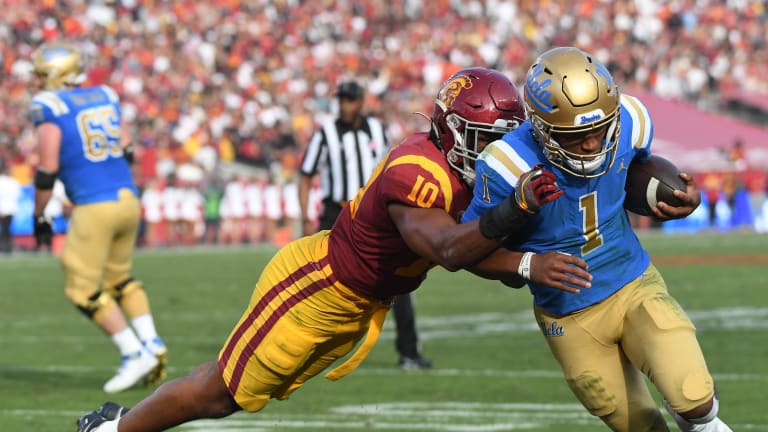 Fact or Fiction: UCLA to the Big Ten, LSU and Tennessee in the CFP, Battle for Los Angeles
In today's Fact or Fiction, I look at three big recent topics in college football and decide whether the statement is indeed FACT or if it's FICTION.

---
1. The UC regents will block UCLA from leaving the PAC 12.
Farrell's take: FICTION
This is all posing. If you're not aware of this situation don't worry about it. It's just a bunch of people who think they are smarter than the rest of the world pretending they care about student athletes and their potential distress of moving to a conference where they are geographically out of place. Money talks and this deal is far too lucrative for anyone to step in and stop it. This is posturing to get UCLA to invest in some things that will make the travel easier on student athletes and that's good. And UCLA will do it. But if the Bruins thumbed their noses this would still happen. Don't be fooled.
2. If LSU gets into the CFP then the Vols should too.
Farrell's take: FACT
I will die on this hill. The Vols destroyed LSU in Death Valley and it wasn't even close. And the Vols will be 11-1 with a lone loss to Georgia. So if LSU runs the table and beats UGA in the SEC title game that's great. Get them in the playoff even with two losses. But don't leave the Vols out because they didn't win their division or the SEC title. They are clearly the better team and their resume is better than LSU's. Why? Because they hammered them.
3. USC will handle UCLA easily.
Farrell's take: FICTION
UCLA is Texas A&M west I understand that. They win nothing ever and fold like a cheap tent in the wind. And coming off a loss to Arizona this is a great place for them to fold again as they head into a rivalry game. But I don't think they will. I see USC winning this one but I don't think it's a blowout. Vegas sees it as a close game as well with USC laying 2.5 points but many think this could get ugly. I don't think it will. USC by less than a touchdown.