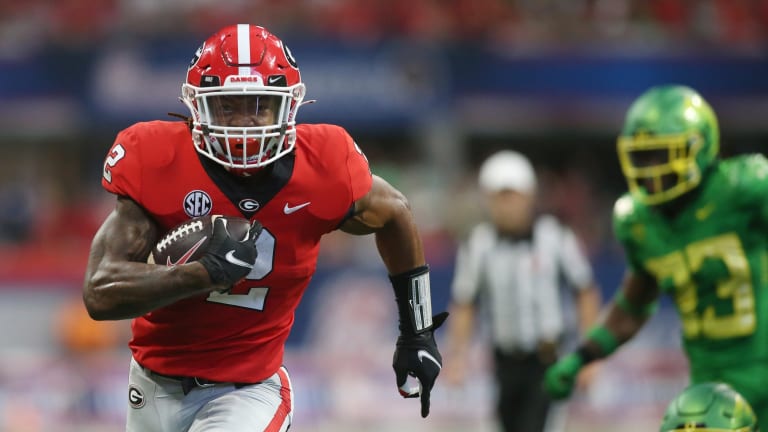 Fact or Fiction: UGA, RB Recruiting, Alabama
In today's Fact or Fiction, I look at three big recent topics in college football and decide whether the statement is indeed FACT or if it's FICTION.
---
Georgia shouldn't have leapfrogged Ohio State.
Farrell's take: FICTION
A 49-3 win over the No. 11 team in the country is a big deal so I have no issue with the Bulldogs jumping the Buckeyes to No. 2 in the polls after Ohio State beat No. 5 Notre Dame 21-10. And after all who really cares? It's one spot in September. We may come to learn that Oregon is vastly overrated or we may find out that Notre Dame isn't as good as they looked on Saturday. Who knows? But this debate is a funny one so I had to comment on it.

---
Bama and Auburn have three of the best four RBs in 2023.
Farrell's take: FACT
Richard Young, Justice Haynes and Jeremiah Cobb are 1, 3 and 4 respectively on my 2023 RB list with Reuben Owens heading to Louisville as No. 2. And why not? Bama continues to churn out great runners and Auburn has the best 1-2 combo in the country in my eyes with Tank Bigsby and Jarquez Hunter. Florida, Texas, LSU and others have good runners in this class but it just so happens that the Tide and Tigers are cleaning up.

---
Alabama has the No. 1 class in the country.
Farrell's take: FACT
Notre Dame and Ohio State swapped places a few times at the top but Alabama leads the way now and I think they finish No. 1 overall in the end for the 2023 class. In addition to the 1-2 punch at running back and two solid 4 star QBs, I absolutely love the defensive backs group here. Caleb Downs and Tony Mitchell are both 5 stars to me and Jahlil Hurley isn't far off. You won't find a better trio in this class.