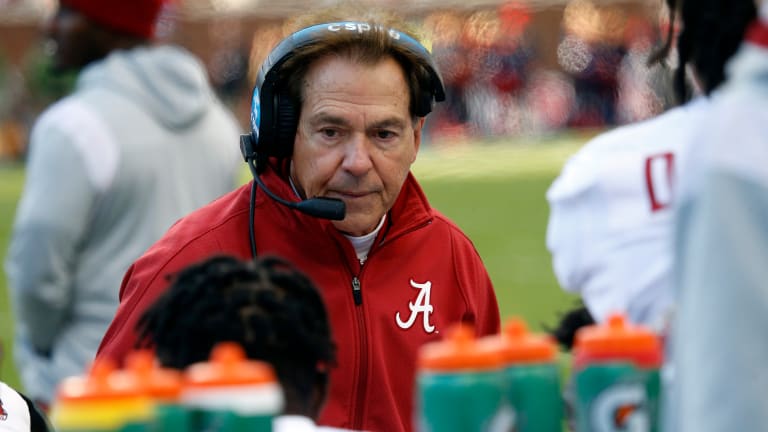 Fact or Fiction: USC in the CFP, Nick Saban, Nation's Top Defender
In today's Fact or Fiction, I look at three big recent topics in college football and decide whether the statement is indeed FACT or if it's FICTION.
---
1. One loss USC should get in before one loss Tennessee.
Farrell's take: FICTION
This was debated earlier today on ESPN, and of course, Keyshawn Johnson claimed USC should get the nod if they win the PAC-12 over a Vols team that won't even win their own division. And he's so wrong. USC has beaten nobody and I mean nobody. What's their signature win? I dare you to find one. Oregon State? That's the best one I could find. And yes they finish the season with ranked UCLA and ranked Notre Dame and would play a ranked team in the PAC-12 title game as well, but it's too little too late. The Vols will hammer South Carolina and Vanderbilt to finish 12-1 and can brag on wins over Alabama and LSU as well as three other teams ranked in the top 25 when they played them (Pitt, Florida and Kentucky). USC will have had an amazing season under Lincoln Riley if they win out but do they deserve the playoff? Not over the Vols they don't.
2. Nick Saban doesn't use the portal enough.
Farrell's take: FICTION
I think it was Paul Finebaum who said this. Or maybe he was defending Saban from someone else saying he doesn't use the portal enough but the accusation that Saban doesn't embrace the portal enough is dumb. First off he doesn't have to use it often and secondly when he does it usually works out. Yes, Jermaine Burton and Tyler Harrell haven't done a ton at Alabama this year, but Jahmyr Gibbs has been the best offensive player for the team not named Bryce and last year Jameson Williams and Henry To'oto'o helped lead a march to the title game. Saban knows what he's doing let's not panic.
3. Will Anderson has been the best defender in the country.
Farrell's take: FICTION
He's the most hyped and will be the highest draft pick, but the best all around player on defense this season has been Cincinnati linebacker Ivan Pace Jr. If you haven't watched him, do yourself a favor and check out one of these key games for the Bearcats coming up. He's amazing off the edge, works off contact well, is a sure tackler and he can cover. This kid is an absolute stud and has gone from undersized MAC recruit to the best non-QB transfer in college football.