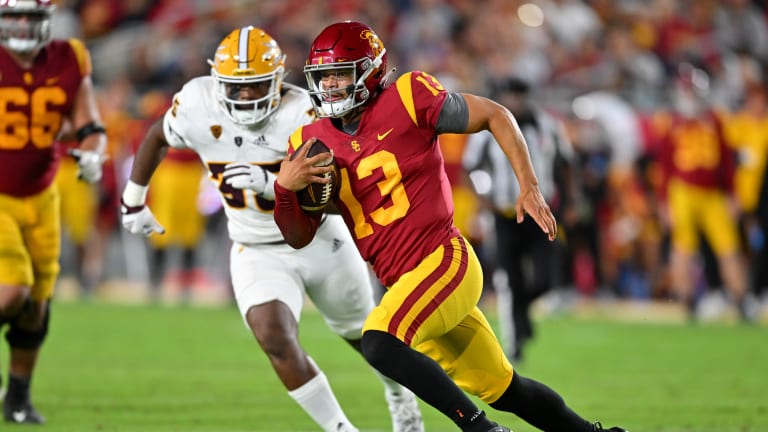 Fact or Fiction: USC Recruiting, Jim Leonhard, Transfer Portal
In today's Fact or Fiction, I look at three big recent topics in college football and decide whether the statement is indeed FACT or if it's FICTION.
---
1. The USC 2023 class is as good as expected.
Farrell's take: FICTION
It's a solid class, and the recent addition of 4-star OL Elijah Page is a big one. But I expected more. That sounds odd, as they have my No. 1 overall player in QB Malachi Nelson and a five-star WR in Zach Branch, but USC has only 3 of the top 25 players in the state of California committed and I expected a much higher number. Lincoln Riley has been selective when it comes to offers and this plays into it but USC should have a top five recruiting class with the buzz around Riley and NIL opportunities.
2. Jim Leonhard would be a home run hire for Wisconsin.
Farrell's take: FICTION
He's a great coach. But is he great head coach? We don't know. Brent Venables has been a great defensive mind for years as a coordinator but so far he's struggled badly in his first head coaching job at Oklahoma. Venables should find his way but a step back from the Bob Stoops and Lincoln Riley days is very likely. So how can we say Leonhard will be better than Paul Chryst who was pretty darned good?
3. The transfer portal feeds the big teams.
Farrell's take: FICTION
Everyone focuses on Jahmyr Gibbs to Alabama and how's he's dominating or Caleb Williams and Jordan Addison and how they have USC undefeated. But some of the best transfers have helped non blue bloods like Washington (Michael Penix Jr.), Purdue (Charlie Jones), Washington State (Daiyan Henley), Cincinnati (Ivan Pace Jr.), Arkansas (Drew Sanders) and others. I think those wondering if the portal will lead to less parity have a point as well could soon see super teams if players decide to collude and go to the same team, but so far I think it's led to more parity overall.