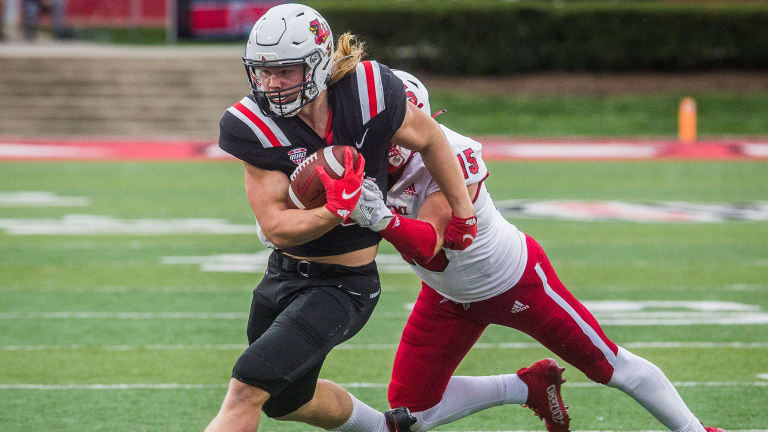 Portal Fact or Fiction: Carson Steele to UCLA, Micah Bernard's Destination, Deacon Hill to Iowa
In today's Fact or Fiction — transfer portal edition — I look at three big recent topics from the transfer portal and decide whether the statement is indeed FACT or if it's FICTION.
---
1. RB Carson Steele is an absolute steal for UCLA.
Farrell's take: FACT
There are bigger names and flashier portal commits, but remember this one. Steele rushed for more than 1,500 yards and 14 scores for Ball State last season and barely anyone knows it. But the smart ones knows how good a get this is. With Zach Charbonnet gone, Steele is the perfect guy to step in and take over and if he stays healthy he's going to have a nasty year in Chip Kelly's system next year. Just watch.
2. Micah Bernard could land at Notre Dame.
Farrell's take: FACT
The Utah running back has talent and has flashed it over the last two seasons. He could have headed to the NFL and hope for a late round pick but instead he wants to spend a season on a big stage. Notre Dame running backs coach Deland McCullough loved this kid when he was at USC and was one of the first to offer him out of high school. Oregon, Oregon State and perhaps USC are ones to watch here as well for the Long Beach standout but if the academics match up (he's a grad transfer), Notre Dame could get involved.
3. Deacon Hill is an upgrade to Carson May for Iowa.
Farrell's take: FICTION
Hill has a cannon arm so there's that. And Iowa doesn't have a QB on the roster with an arm like Hill who comes over from Wisconsin. But Carson May has so much upside and is one of the best QBs Kirk Ferentz has recruited in ages so to lose him is a bad deal. May can do things Hill cannot do including seeing the field and playing within himself so I don't like this swap for Iowa at all. And the future at QB for Iowa is Joe Labas it appears but he is a far cry from May when it comes to ceiling.