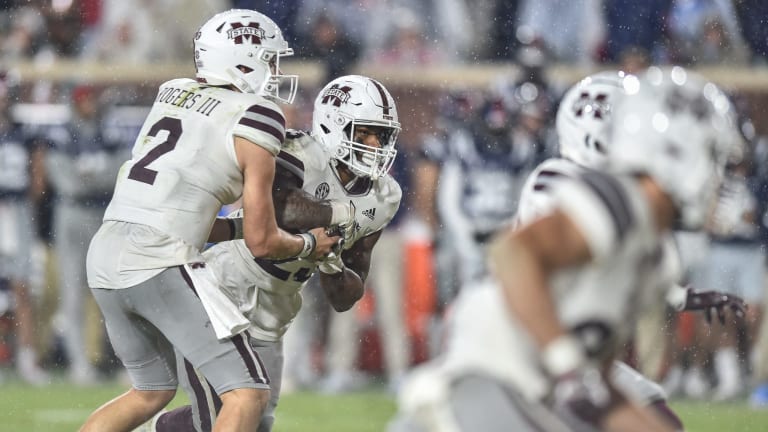 Portal Fact or Fiction: Justin Rogers, Dillon Johnson, Arkansas Departures
In today's Fact or Fiction — transfer portal edition — I look at three big recent topics from the transfer portal and decide whether the statement is indeed FACT or if it's FICTION.
---
1. DT Justin Rogers is going to be very popular.
Farrell's take: FACT
Former 5 stars in the portal are always a big deal, especially if they've played well. But a big man former 5-star? He's already been contacted by schools like Oregon, Miami, LSU, and Georgia and others will quickly join in. Rogers is one of the best defensive tackles in the SEC and could make a massive difference for a national title contender next season.
2. Dillon Johnson will dominate at Washington.
Farrell's take: FACT
I am a big fan of the former Mississippi State running back. He's got solid size, he can catch the ball and he's a utility weapon in a Kalen DeBoer offense that loves to keep defenses off balance. The running back room is unproven there and while Daniyel Ngata from Arizona State is similar to Johnson, the Mississippi State transfer is more productive.
3. Arkansas is losing the most talent in the SEC.
Farrell's take: FICTION
Nope.  I don't like what I'm seeing from Arkansas with the losses but honestly, Texas A&M is losing more. While some are malcontents and had off-field issues, you can't argue with the talent level leaving College Station. I said yesterday that A&M is adding two quality players in DBs Sam McCall and Tony Grimes and a roster reset might be what's needed for Jimbo Fisher, but when asked point blank which team is losing the most in the portal on Tuesday I had to answer the Aggies.