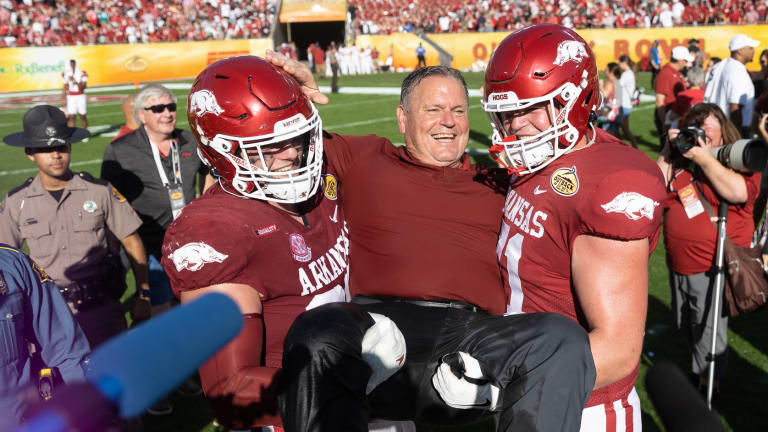 Portal Fact or Fiction: Sam Pittman's Struggles, Texas A&M Cleaning Up, Tanner Mordecai at UW
In today's Fact or Fiction — transfer portal edition — I look at three big recent topics from the transfer portal and decide whether the statement is indeed FACT or if it's FICTION.
---
1. Sam Pittman has lost his team.
Farrell's take: FACT
28 players. That's how many have hit the portal from Arkansas since the start of the season. DE Jordan Domineck is the fifth alone on the defensive line. Sam Pittman was a savior for Arkansas after last season's 9-4 record but now after a 7-6 year fans are worried. This roster will be overhauled and some of it is by choice but some of these portal losses are alarming. This is not a good sign.
2. A&M has killed it in the portal so far.
Farrell's take: FACT
FSU and Michigan are getting much of the accolades but watch out for the Aggies. Everyone talks about who they are losing, and they are losing talent, but remember a few of the big names had off field issues and hadn't bought in to Jimbo Fisher. Adding Sam McCall from Florida State, one of the best talents available, and Tony Grimes from UNC will shore up the defensive backfield in a big way. Two commits won't land them on any top team lists but these are two crucial gets of players coveted heavily coming off a horrible season.
3. Tanner Mordecai and Wisconsin is an odd fit.
Farrell's take: FICTION
Once upon a time a pass happy QB like Mordecai wouldn't look twice at Wisconsin. But with Luke Fickell in charge now and former UNC offensive coordinator Phil Longo bringing a wide open offense to Madison, Mordecai is a great fit. With Nick Evers coming over from OU in the portal as well as a young QB, Mordecai is what's needed there to bridge that gap.