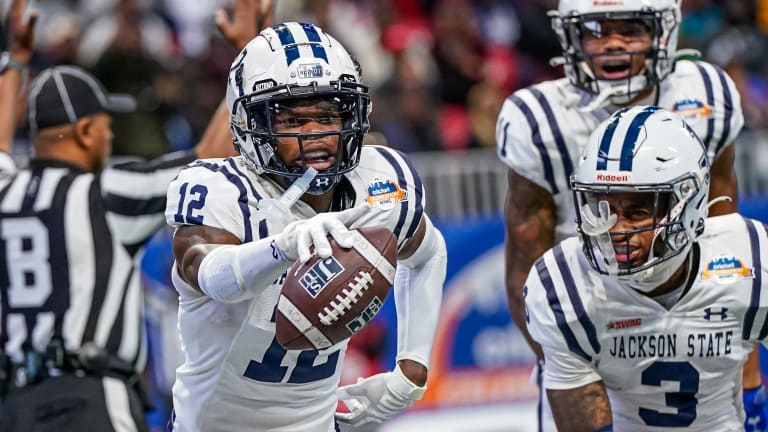 Portal Fact or Fiction: Travis Hunter, Dorian Singer's Impact, Tunmise Adeleye to Miami
In today's Fact or Fiction — transfer portal edition — I look at three big recent topics from the transfer portal and decide whether the statement is indeed FACT or if it's FICTION.
---
1. Travis Hunter should follow Deion to Colorado.
Farrell's take: FICTION
He followed Deion once and we all knew Deion would not stay for Hunter's entire career but let's be real — Colorado? This kid is a top five talent out of high school and could command big NIL money from Georgia, FSU, or anyone else he spurned when he chose Jackson State. And the main reason for choosing Jackson State — an HBCU — is obviously not in play at Colorado. Deion is making his own path in college football and Hunter should as well.
2. Dorian Singer puts up better numbers than Jordan Addison did.
Farrell's take: FACT
The assumption is that Addison, the Pitt transfer, will head off to the NFL although that hasn't been announced yet. Singer, who outperformed Addison this past season at Arizona, will certainly put up better numbers than 59 catches for 875 yards and 8 scores. He's a home run get in the portal but won't get the same attention Addison did last cycle.
3. Miami lands DE Tunmise Adeleye.
Farrell's take: FACT
This is a guess but a good one. Mario Cristobal is an elite recruiter and by all accounts the Texas A&M transfer loved his trip to Miami. Michigan State, USC, and Cal are in here as well but based on the timing of his visit and decision (likely this week) I like the 'Canes here.