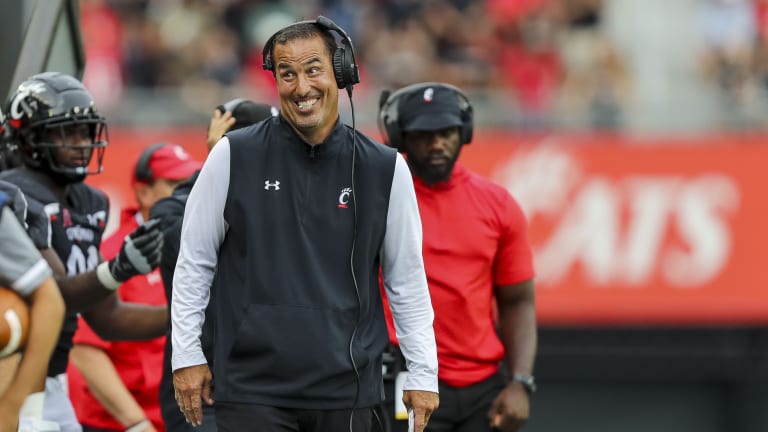 Recruiting Fact or Fiction: Badgers Uptick, Matt Rhule, Dante Moore
In today's Fact or Fiction — Recruiting Edition — I look at three big recent topics from the recruiting trail and decide whether the statement is indeed FACT or if it's FICTION.
---
1. Wisconsin recruiting will get an overall boost.
Farrell's take: FICTION
Fickell is a big name because of what he did at Cincinnati bringing them to the playoff last season. But he's not a rock star recruiter, he's a developer. And Wisconsin doesn't lure elite talent from around the country, they develop 3 stars for the most part. And let's be honest, the "Wisconsin Way" probably won't change as it will be predicated on a physical offense and a well schemed defense. I expect things to remain the same at Wisconsin when it comes to recruiting.
2. Matt Rhule will recruit more four stars to Nebraska.
Farrell's take: FICTION
Nope. That's not what he does. Nebraska gets around three or four 4-star recruits per cycle and that's what should be expected moving forward. A rough recruiting geography hurts them badly. But they don't need a ton of 4-stars, at least not right away. Rhule is a great talent evaluator and he's a great developer of talent so in a division where 3 stars dominate the rosters of those who win, Nebraska will be the same.
3. QB Dante Moore will have second thoughts about Oregon.
Farrell's take: FICTION
Nah. While Oregon OC Kenny Dillingham was a huge reason why the 5-star QB chose the Ducks all the way from Michigan, Moore is locked into Oregon for other reasons as well. Moore is a smart kid — really smart. And he knows not to choose a school for a coach despite how much he liked Dillingham who is now headed to Arizona State as the new head coach. He won't follow to ASU as the rebuild there is big and he won't stay close to home at Michigan State despite their overtures. He's locked in with Oregon barring a stunner.