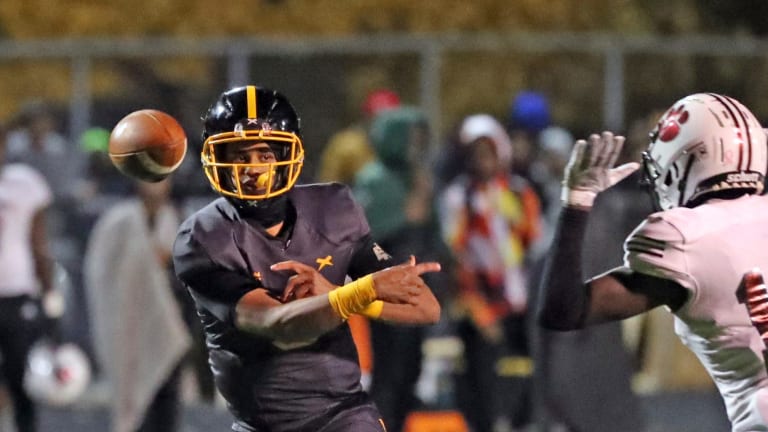 Recruiting Fact or Fiction: Brandon Inniss, Justice Haynes Flip Potential, Dante Moore
In today's Fact or Fiction — Recruiting Edition — I look at three big recent topics from the recruiting trail and decide whether the statement is indeed FACT or if it's FICTION.
---
1. Brandon Inniss will delay signing.
Farrell's take: FICTION
He says he may and with 2024 five-star WR Jeremiah Smith on board with the Buckeyes now he might think twice. But the long-time Buckeyes commit has folks in his head about delaying his signing and checking out Deion Sanders and Colorado. While that's nice and all and Inniss did need to recalibrate his recruiting once before when Lincoln Riley left Oklahoma when he was a commit, I think he will come to his senses. No one is better at recruiting WRs than Ohio State's Brian Hartline and he will get this done.
2. Justice Haynes sticks with Alabama.
Farrell's take: FACT
Ahhh the rumors are fun right? He was gonna flip to Georgia and play where his dad played. Or he was gonna head up and play for Ohio State. The talented RB debunked these rumors every step of the way, sometimes publicly, and now he's all set to sign with Alabama next week. He visits Alabama this weekend and barring a stunner he will be part of this class.
3. Dante Moore sticks with Oregon.
Farrell's take: FACT
There are many moving parts here as Moore took a visit to UCLA and Chip Kelly made his pitch. Getting Moore on a visit is a bigger task than many of you think so this is a real threat. But Moore is very calculated and smart and doesn't waiver much on anything. Dan Lanning and company are working hard to make sure he stays in this class and the five-star QB will get many assurances to do so. He's not an NIL guy but everyone wants assurances.