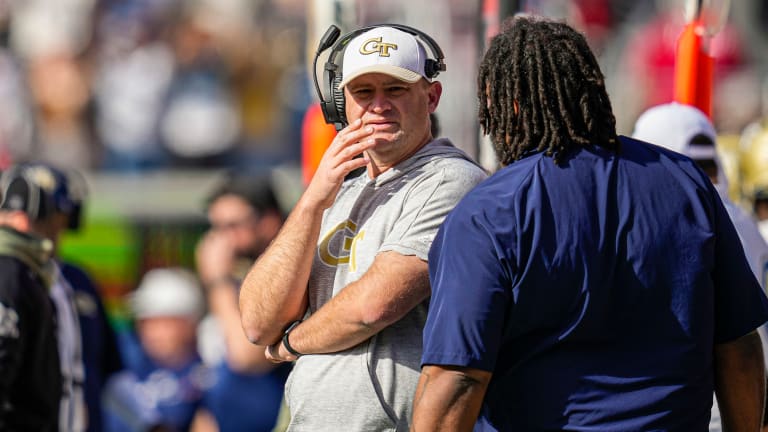 Recruiting Fact or Fiction: Collins Acheampong, Brent Key's Impact, Xavier Guillory
In today's Fact or Fiction — Recruiting Edition — I look at three big recent topics from the recruiting trail and decide whether the statement is indeed FACT or if it's FICTION.
---
1. DE Collins Acheampong is a big loss for Michigan.
Farrell's take: FICTION
While he's rated highly, the Cali prospect is very raw and is all potential at this point. He's 6-8, and 225 pounds with a hoops player's build Miami is getting a kid with upside but he's also new to football and is coming off a knee injury. Michigan won't lose sleep in losing this one to the Canes.
2. Brent Key can change recruiting at Georgia Tech.
Farrell's take: FICTION
Key is a cool hire as an interim coach who sparked a fire under his team this year and earned the love of players and boosters alike. But let's be real. Recruiting will still be hard. UGA rules the state and everyone comes in as well so the ones the Dawgs can't take or lose out to are headed to Alabama, Clemson and other major powers. I keep hearing NIL could make a difference but not until they win and even then it's a hard sale with academic restrictions others don't have. He will need to develop 3 stars more than recruit the elite players in the Southeast.
3. WR Xavier Guilllory heads to Arizona State.
Farrell's take: FACT
The Idaho State standout entered the portal this week and already has double digit offers as an FCS stud. He caught 52 passes for 785 yards with four touchdowns in 10 games this season and his coach, Charlie Ragle, is headed to ASU to work under new coach Kenny Dillingham. While Washington State is attractive as a native of Washington, the tea leaves all read ASU here and it would be an amazing get for Dillingham.