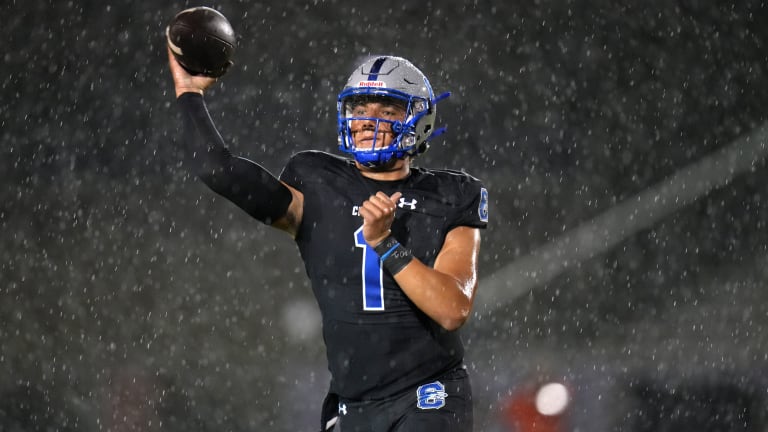 Recruiting Fact or Fiction: Dylan Railoa, Arion Carter, LSU
In today's Fact or Fiction— Recruiting Edition — I look at three big recent topics in from the recruiting trail and decide whether the statement is indeed FACT or if it's FICTION.
---
1. Dylan Raiola will flip to Nebraska.
Farrell's take: FICTION
C'mon people. Yes the 2024 5-star QB visited Nebraska this weekend but that was to see the place with his younger brother, Dayton, and much of his family as the 2026 younger Railoa got his first offer from the Huskers and their dad Dominic once played there. But rest assured, the 5-star is happy with his commitment to Ohio State and the best offense in the country and isn't going to flip to a 3-5 team with no head coach. And Dayton will get more offers. Sometimes a visit is for family reasons only and this is the case here.
2. Arion Carter will land at Alabama.
Farrell's take: FACT
Carter is a Memphis commit from Tennessee but the big boys have been coming at him as Ohio State, Michigan and others are interested. But Alabama is as well and this is all but done for the Tide if they continue to press. The 6-foot-1, 205-pounder will be a part of Nick Saban's class sooner than later.
3. LSU flexed their muscles flipping LB Christian Brathwaite from Baylor.
Farrell's take: FACT
If Brathwaite was from Louisiana I wouldn't be overly concerned if I'm a Baylor fan. But he's from Texas and LSU kind of tapped him on the shoulder, got him to visit and flipped him from Baylor with ease. He had been committed to Dave Aranda since January and had a great feel for the Baylor staff, much more than the LSU staff but it didn't matter. Baylor's up and down season and the SEC come into play here and LSU has a chance to finish with a top 5 class the way they are playing under Brian Kelly.