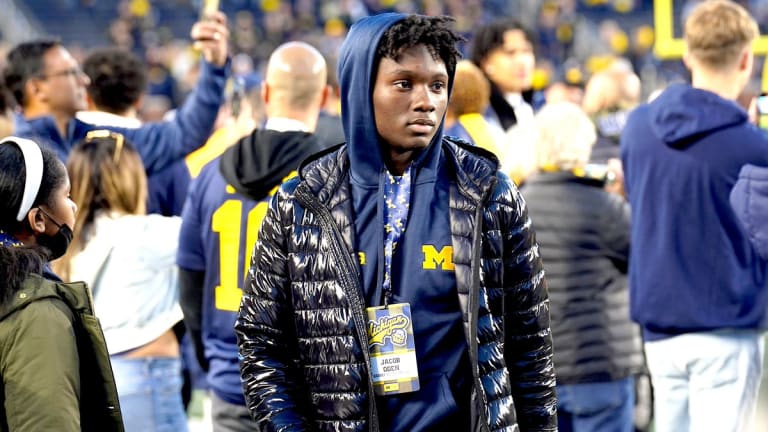 Recruiting Fact or Fiction: Jacob Oden, Joshisa Trader's Destination, Nyckoles Harbor
In today's Fact or Fiction — Recruiting Edition — I look at three big recent topics from the recruiting trail and decide whether the statement is indeed FACT or if it's FICTION.
---
1. DB Jacob Oden will land at Michigan State.
Farrell's take: FICTION
Oden, a top 2024 DB from Michigan has named his top five with Michigan and Michigan State making the cut along with Tennessee, Penn State, and Iowa. And some were saying the 6-foot-1 rangy defensive back could be part of a surprise 2024 class for Mel Tucker and the Spartans. Nah. Michigan is the team to beat, with Penn State the biggest threat in my mind. Michigan State has been recruiting Oden forever and I think he respects the program but the lure of big-time stages at Michigan and Penn State will be too much to pass on.
2. The Canes can land WR Joshisa Trader.
Farrell's take: FACT
Trader, an elite 2024 from Hollywood, Florida, listed a top five of Ohio State, Tennessee, Florida State, Florida and Miami but many think he's a heavy Buckeyes lean. While that may be true don't count out what Miami will do to land Trader. The wide receiver room at Miami was a mess when Mario Cristobal arrived and they didn't kill it in the 2023 class so a local five star simply can't get away. I think Miami stays in this and could close down the stretch in a surprise.
3. LSU could steal ATH Nyckoles Harbor.
Farrell's take: FICTION
It's between LSU and Miami for the fourth and last official visit for the 5-star ATH from Maryland and the Tigers would be a scary threat to Michigan, South Carolina and Maryland if he visits Death Valley. I've seen many recruits over the years head to Baton Rouge on a late visit where LSU wasn't considered a threat and come away committed to the Tigers. However, Harbor has been so disciplined and thorough in his recruiting search that one visit likely wouldn't cut it here. He's been to South Carolina and Michigan enough to feel comfortable with each and he's at Maryland every weekend lately it seems. I still have Michigan with a slight edge over the Gamecocks here and LSU would be a stunner.