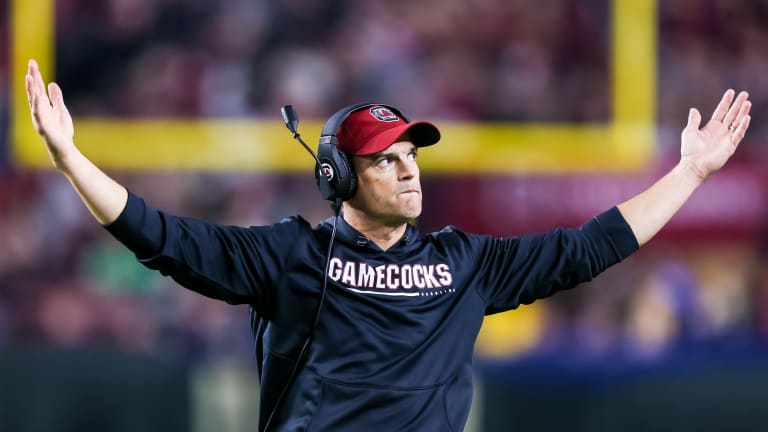 Recruiting Fact or Fiction: Justin Scott to UGA, South Carolina on a Roll, Terry Bussey
In today's Fact or Fiction — Recruiting Edition — I look at three big recent topics from the recruiting trail and decide whether the statement is indeed FACT or if it's FICTION.
---
1. DT Justin Scott now favors Georgia.
Farrell's take: FICTION
The 5 star DT from Illinois was supposed to announce his decision on Jan. 31 but has now postponed it indefinitely. This comes with a recent offer from Georgia so people assume they are the school to beat. Nope. It's Notre Dame over Michigan with Georgia a wildcard once he visits. The offer from Georgia might have slowed this process but it doesn't mean they are his dream school. He'd just be dumb to decide without checking out the two time national champs. Oh and why ND now over Michigan when I had Michigan over ND a few weeks ago? A return visit to South Bend was set to occur this weekend as a lead up to his commitment date and the Harbaugh NFL rumors kind of turned him off a bit. Stay tuned. 
2. The Gamecocks are the hottest team in the country.
Farrell's take: FACT
How about Shane Beamer? A commitment from top OT Kam Pringle in the 2024 class and now 4 star TE Michael Smith from Georgia in the same class. This is a team on fire. Even with only 3 commitments in 2024 I have them as a top 10 team in my rankings and this momentum will lead to a strong Spring.
3. 2024 ATH Terry Bussey will climb in the rankings.
Farrell's take: FACT
He's not that big at 5-11 and 180 pounds as a QB but he can play not only QB but WR, RB or DB and he's simply impossible to stop. Texas A&M leads for the player compared to Kyler Murray and his low ranking right now by many (outside the top 100 in some places) will change and change a lot. He could be a 5 star player in the end and if the Aggies can hold onto this lead they will get one of the most dynamic players in 2024.