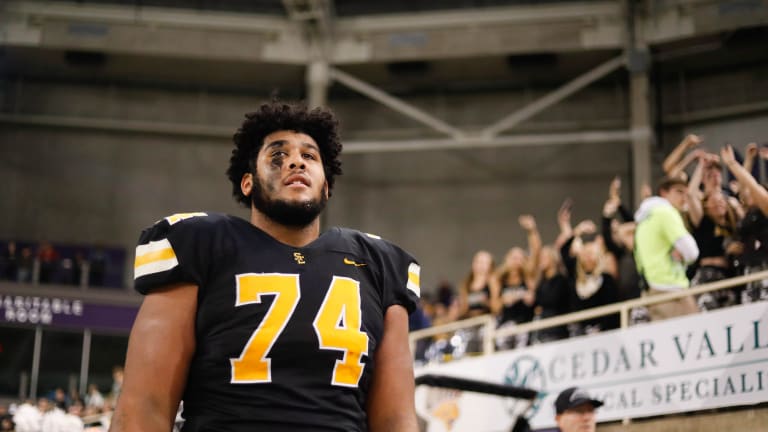 Recruiting Fact or Fiction: Kadyn Proctor to Oregon, Brock Glenn, Deandre Moore
In today's Fact or Fiction — Recruiting Edition — I look at three big recent topics from the recruiting trail and decide whether the statement is indeed FACT or if it's FICTION.
---
1. Oregon will land OT Kadyn Proctor.
Farrell's take: FICTION
The 5-star OT liked his Oregon visit, and so did his mom. I'm told he will likely visit Alabama this weekend before making a decision so this is far from over. But let's remember this is an Iowa kid committed to Iowa to play OL, and that's hard to shake. I don't know the inner workings of the family too much, but in my experience, this home state advantage will be hard to beat despite their offensive woes.
2. The QB Brock Glenn flip is a surprise.
Farrell's take: FICTION
Nah. And I'll tell you why. Dylan Raiola exists. While Glenn is a 2023 and Railoa is a 2024, I've been told that the former wants to be the man wherever he goes from every aspect — from playing time to NIL. And that wasn't going to happen with a five-star behind him in the next class. Luke Kromenhoak from Georgia is in the 2024 class for the Seminoles, but he's not close to the talent that Raiola is. This make sense for what Glenn wants.
3. Deandre Moore sticks with Louisville.
Farrell's take: FACT
Georgia is a threat here and he liked Texas as well but Moore was recently back at Louisville and confidence is high he will stick. QB Piece Clarkson from California is a big part of this and his dad, Steve Clarkson, is a huge influence out west as a legendary QB coach.