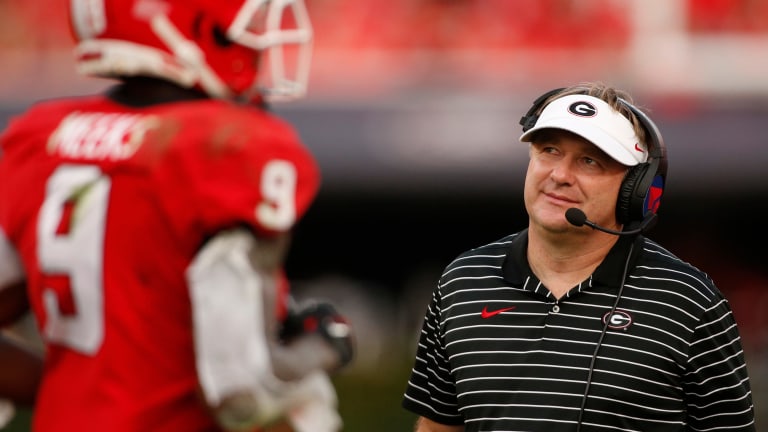 Recruiting Fact or Fiction: UGA's In-State Power, Julian Sayin, Matayo Uiagalelei
In today's Fact or Fiction— Recruiting Edition — I look at three big recent topics on the recruiting trail and decide whether the statement is indeed FACT or if it's FICTION.
---
1. Georgia is losing their in state advantage.
Farrell's take: FICTION
Nah. Don't worry about 2023 where the Bulldogs have only a handful of players committed in state. Why? The Georgia brand is a national one now and has been for a few years as players like Brock Bowers, Kendall Milton, Jalen Carter and others come from far and close to play. It's been this way for a bit now and this class is top five in the country with the elite coming from Alabama, North Carolina, Florida and Nevada. In state gets like OL Johnathan Hughley and TE Lawson Luckie are important to the class but it's a down year in Georgia overall and they will be back to dominant at the top in 2024.
2. Julian Sayan to Alabama is a bigger blow to UGA than LSU.
Farrell's take: FICTION
I think this hurts LSU more as Georgia is very high on commit Ryan Puglisi and feel confident they can add another 4 star in this class. But LSU is in a little trouble here. I'm not as high as others on 2023 commit Rickie Collins who they flipped from Purdue and they are behind the eight ball with top targets in 2024 like Jadyn Davis and DJ Lagway so they might have to reach again for 2024. One criticism of Brian Kelly at Notre Dame was an inability to lure and develop elite QBs. Could we be seeing the same thing in Baton Rouge?
3. Matayo Uiagalelei stays home to play for USC in the end.
Farrell's take: FACT
Ohio State is very attractive for the elite DE and younger brother of Clemson QB DJ Uiagalelei from Cali and the family has shown going away from home isn't an issue. And Larry Johnson is a huge lure for the rush end as well, but Shaun Nua is also an elite recruiter and USC is low-key high on the list of many players out west in 2023 and 2024. The Buckeyes will get an elite DE in this class and possibly two and are involved with studs like Uiagalelei, Keon Keeley and Damon Wilson and I see it shaking out this way — Uiagalelei to USC, Keeley to Alabama and Wilson to Ohio State.