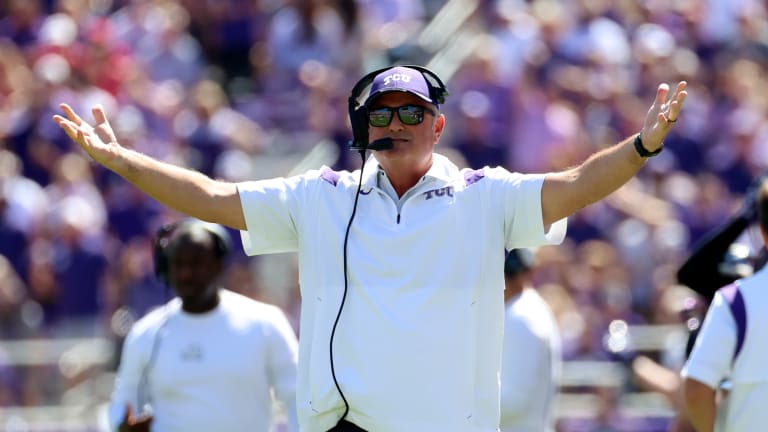 Grading the First-Year Coaches
Let's grade the first year head coaches so far because….why not?
1. Lincoln Riley, USC
A-plus
— Can't ask for much more despite the loss to Utah. This is a team full of transfers and there were questions in the trenches. He's done a great job.
2. Sonny Dykes, TCU
A-plus 
— He has his team undefeated and in the hunt for the Big 12 and some might say this is a harder rebuild than USC but I don't. But they are in playoff contention so it's quite amazing.
3. Mike Elko, Duke
A-minus
The rout of Miami is a big deal after an undefeated start. He's been impressive - so impressive that he's got the Devils in prime position to go bowling for the first time since 2018.
4. Brian Kelly, LSU
B-plus
— The win over Ole Miss was a big one and he has this team rolling and dangerous. And with the way they're recruiting, they're definitely moving in the right direction.
5. Dan Lanning, Oregon
B-plus
— The blowout loss to Georgia was not a good start but things have turned around quite well. They were a well-oiled machine against an overmatched UCLA.
6. Joey McGuire, Texas Tech
B-plus 
— Did we expect a win over Texas? We didn't and he has this team playing hard. 4-3 is great as the schedule has been hard.
7. Kalen DeBoer, Washington
B 
— Washington was back in the top 25 briefly which was unexpected and the way Michael Penix Jr. has played has been all DeBoer.
8. Jake Dickert, Washington State 
B
— They have been up and down but competitive in most games and the win over Wisconsin was a surprise.
9. Billy Napier, Florida
C-plus
— The Utah win was great but 1-3 in the SEC isn't good and Anthony Richardson hasn't developed.
10. Mario Cristobal, Miami
C- minus
— The loss to Middle Tennessee State was bad and things haven't gone smoothly especially after this week's loss to Duke.
11. Marcus Freeman, Notre Dame
C-minus
— Home losses to Marshall and Stanford are bad, really bad.
12. Brent Venables, Oklahoma
D
— We all know what's happened. The losses have been horrible and embarrassment especially the Texas one.
13. Tony Elliott, Virginia
D
— He inherited some offensive talent and they can't score. That's bad.
14. Brent Pry, Virginia Tech
F
— This has been worse than anyone expected. The loss to ODU was especially heinous.