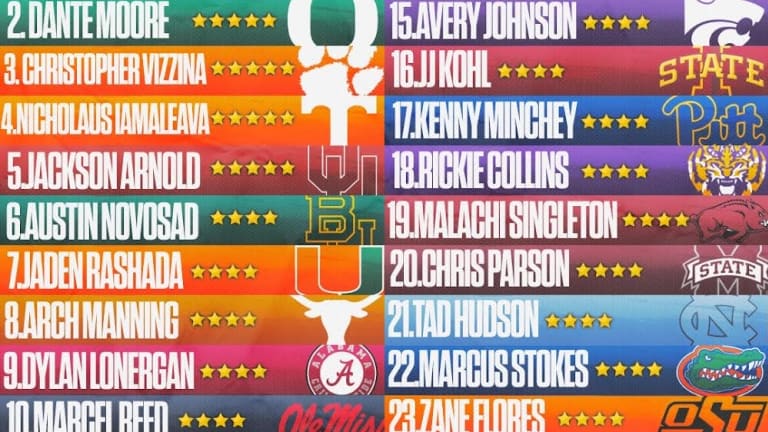 Mike Farrell's Top 25 Quarterbacks for 2023
Malachi Nelson, USC, 5 star — The best player in this class, smooth at everything.
Dante Moore, Oregon, 5 star — He's close to Nelson, so efficient for a HS player.
Christopher Vizzina, Clemson, 5 star — I like him better than most, he has the arm and mobility.
Nicholaus Iamaleava, Tennessee 5 star — He makes no mistakes and sees the field as well as anyone.
Jackson Arnold, Oklahoma, 5 star — His arm is elite and arguably the best in this class.
Austin Novosad, Baylor, 4 star — He has a chance to join the big boys as a 5 star.
Jaden Rashada, Miami, 4 star — He's inconsistent but his ceiling is very high.
Arch Manning, Texas, 4 star — He's good, don't get me wrong. He could be amazing.
Dylan Lonergan, Alabama, 4 star — The better of the two 'Bama QBs in my mind.
Marcel Reed, Ole Miss, 4 star — Seems to be underrated in this industry.
Pierce Clarkson, Louisville, 4 star — Not only a great talent but a great recruiter and super smart.
Brock Glenn, Ohio State, 4 star — He's very good and a solid late addition to this class.
Eli Holstein, Alabama, 4 star — He's a game manager who doesn't make many mistakes.
Brayden Dorman, Arizona, 4 star — Arizona has a long way to go but don't sleep on this commit.
Avery Johnson, Kansas State, 4 star — Johnson is higher elsewhere but he's up and down at times.
JJ Kohl, Iowa State, 4 star — Huge kid with a big arm but needs refinement.
Kenny Minchey, Pitt, 4 star — Very underrated get to me.
Rickie Collins, LSU, 4 star - Perfect fit for Brian Kelly as he's smart and won't make mistakes.
Malachi Singleton, Arkansas, 4 star — A determined kid with a chip on his shoulder is great for Sam Pittman.
Chris Parson, Mississippi State, 4 star — He's raw as heck but that ceiling is high.
Tad Hudson, UNC, 4 star — Overlooked in this class but very good.
Marcus Stokes, Florida, 4 star — Some think Stokes is overrated and some think he's going to be great. I'm in between.
Zane Flores, Oklahoma State, 4 star — He shows flashes of greatness but needs to be more consistent.
Gabarri Johnson, Missouri, 4 star - Low-key one of the steals of this class.
William Watson IIII, Nebraska, 4 star - A really good find for Nebraska who is a versatile weapon.