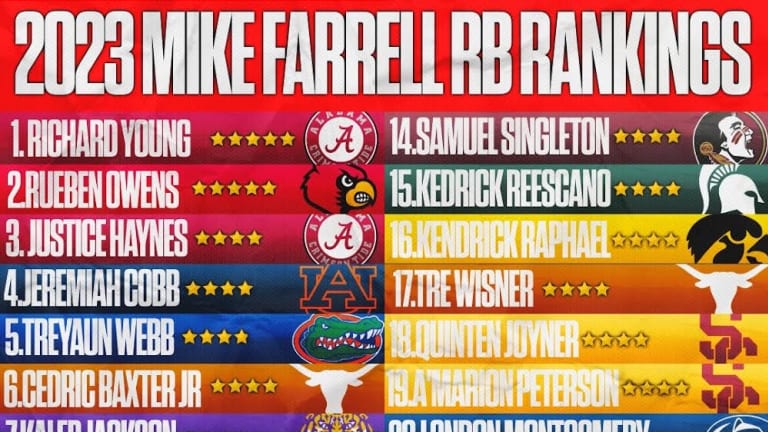 Mike Farrell's Top 25 RBs for 2023
Ranking the top 25 tailbacks in the class of 2023
1. Richard Young, Alabama (5-star)
— Speed to burn but also well built and bounces off tackles.
2. Rueben Owens, Louisville (5-star)
— Solid track speed, but it's his physical nature that I love. He could play defense if he wanted to.
3. Justice Haynes, Alabama (4-star)
— Great feet and an excellent receiver out of backfield.
4. Jeremiah Cobb, Auburn (4-star)
— Another track kid I like him better than most because he makes you miss easily.
5. Treyaun Webb, Florida (4-star)
— A great athlete who is just turning into a great runner.
6. Cedric Baxter Jr., Texas (4-star)
— Elite vision and he's a nasty downhill runner.
7. Kaleb Jackson, LSU (4-star)
— One of the fastest backs in this class and has rare size for a speedster.
8. Dante Dowdell, Oregon (4-star)
— Another big back with good speed he's great after contact.
9. Dylan Edwards, Notre Dame (4-star)
— He's tiny but he's so electric in the open field.
10. Dontavius Braswell, South Carolina (4-star)
— Physical and reaches top speed as well as anyone.
11. Cole Cabana, Michigan (4-star)
— Elite in run and passing game settings.
12. Daylan Smothers, Oklahoma (4-star)
— Fluid, shifty and explosive.
13. Trey Holly, LSU (4-star)
— Sneaky strong and runs with great natural leverage.
14. Samuel Singleton, Florida State (4-star)
— Consistent and yet to reach his true potential so this is a ceiling ranking.
15. Kedrick Reescano, Michigan State (4-star)
— Elite athlete with great burst and a nose for the end zone.
16. Kendrick Raphael, Iowa (4-star)
— Breakout season last year and sees the field well.
17. Tre Wisner, Texas (4-star)
— Dynamic as a runner and receiver.
18. Quinten Joyner, USC (4-star)
— Upright runner and a one cut physical kid.
19. A'Marion Peterson, USC (4-star)
— Not a burner but he will wear you down and run you over.
20. London Montgomery, Penn State (4-star)
— Slasher and very elusive but sneaky strong.
21. L.J. Martin, Stanford (4-star)
— Huge back who breaks tackles with ease.
22. Isaiah Augustave, Arkansas (4-star)
— Tall, upright runner with great length.
23. Cameron Cook, TCU (4-star)
— Great athlete is still raw as a runner.
24. Mark Fletcher, Ohio State (4-star)
— Elusive but powerful all at once.
25. Jaquez Keys, Wisconsin (4-star)
— Monster big back who will be a workhorse.