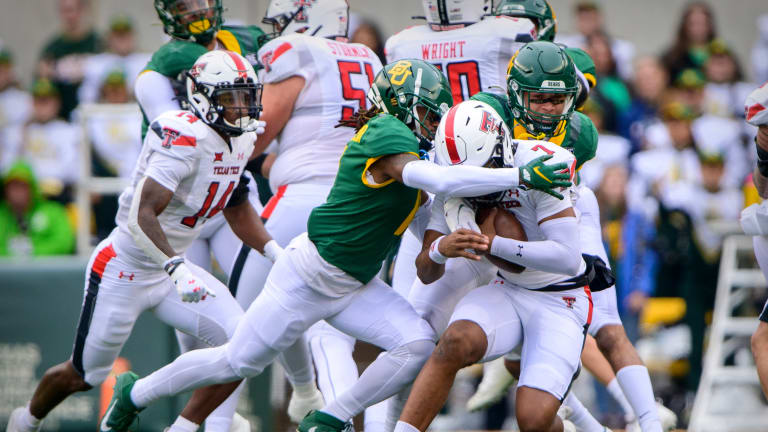 2022 Preview: Big 12 Toughest Defenders To Replace
Who are the toughest defensive players to replace in the Big 12? Baylor's Jalen Pitre and others leave huge holes...
Baylor - Jalen Pitre
Potential Replacements: Lorando Johnson, Devin Neal, & Devin Lemear
Dave Aranda will looking at a few safeties to try to fill the void left by Jalen Pitre, who, along with linebacker Terrel Bernard were key cogs and leaders in Baylor's 2021 Big 12 Championship team.
Pitre was recognized as a Consensus All-American in 2021 and Big 12 Defensive Player of the Year.
In Aranda's 3-3-5 stack defense, senior Christian Morgan returns at free safety in the safety unit and will be mentoring junior Devin Neal, sophomore Lorando Johnson, and freshman Devin Lemear.
---
Oklahoma - Perrion Winfrey
Potential Replacements: Jeffrey Johnson OR Isaiah Coe
After two seasons playing junior college football, Perrion Winfrey took on the challenge of becoming a disruptor and critical cog in Oklahoma's defensive line.
In 20 games he appeared in for the Sooners, Winfrey posted 40 tackles, 16.5 tackles for loss, and six sacks.
During his two seasons in Norman, he was recognized on the Second Team All-Big 12 Team in 2020 and 2021.
Recently, new Oklahoma Sooners head coach Brent Venables released his first depth chart for the 2022 season, and it looks like Venables will have a rotation at the nose tackle position.
Senior Jeffrey Johnson and junior Isaiah Coe have the OR designation between the two indicating no one differentiated themselves enough to be a clear-cut number one starter.
---
Oklahoma State - Malcolm Rodriguez & Devin Harper
Potential Replacements: Xavier Benson & Mason Cobb
Before his fame as "Rodrigo" on this season's Hard Knocks on HBO, Malcolm Rodriguez was a standout linebacker in the Cowboy's defense.
Rodriguez at Oklahoma State compiled 408 tackles and 7.5 sacks in his career, was named an All-American by ESPN and capped his career with a Fiesta Bowl MVP performance where he had 11 total tackles and eight solo tackles, a quarterback hurry, and a key interception.
Rodriguez and former teammate Devin Harper (now on the Dallas Cowboys) leave a giant void for the Cowboys on defense to replace them in the Cowboys' 4-2-5 scheme.
New defensive coordinator Derek Mason has identified two guys who have stepped up, junior Mason Cobb, who spent time last season being mentored by Harper and Rodriguez, and junior Xavier Benson. They transferred from Tyler Junior College in Texas.
Cobb said in The Oklahoman how much Rodriguez and Harper mentored him, "Devin really took me under his wing," Cobb said. "He and Malcolm were really good dudes. Being able to watch those two play with relentless effort, finishing strong, just having a love of the game — that's what I took away from them."
Benson, an All-American at Tyler, had 120 tackles last season. He does have major college football experience spending his 2019 season at Texas Tech.