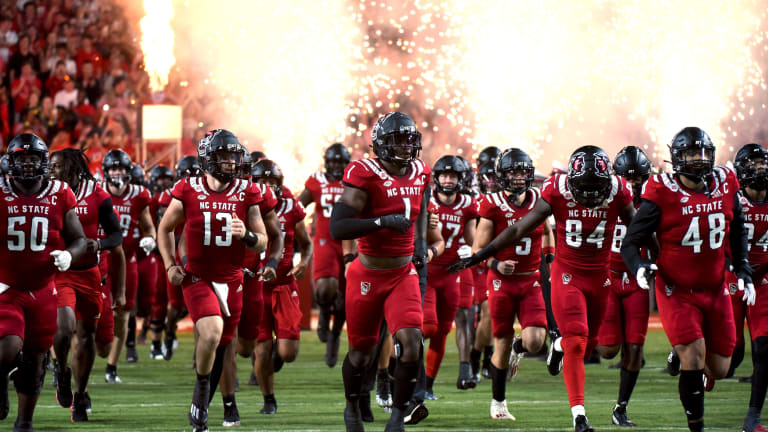 A New Leader of the Pack?
NC State looks to ascend to top of ACC in Top 10 matchup vs. Clemson
Ric Flair, a wrestling legend from North Carolina, once quipped, "To be the man, you got to beat the man."
NC State under head coach Dave Doeren is looking to take a similar step to the one that Pat Narduzzi did last season, leading Pitt to the conference title. To be the man, the Wolfpack will be looking to unseat perennial ACC power Clemson in Death Valley Saturday night for that penultimate step for the Wolfpack program. 
"It's a great opportunity against a great team at a great venue. It's everything you want as a coach and a player, and we're excited for the opportunity," Doeren said, "It's two top-10 teams competing on the national stage. It's why we do this."
For NC State, quarterback Devin Leary said the Wolfpack's win over a top-ten ranked Clemson team was the precipice to winning 11 of their previous 13 games.
That victory taught the Wolfpack that "we can compete with the best as long as we prepare and do our jobs," said Leary,"I think we got a little bit of a taste of that last year."
That confidence builder is leading to potential significant achievements for the Wolfpack program:
NC State is ranked in the top 10, and will play in the program's first Top 10 showdown
Doeren is 0-3 in Death Valley, a win Saturday would be a first in his tenure, it would be the first win in Death Valley since 2002, and it would snap the longest home winning streak in the country by Clemson at 35 games
NC State can control its destiny in winning its first ACC title since 1979.
The College Football Playoff dreams inch closer and at minimum the program would play in its first bowl with a New Year's Six designation on it (the Wolfpack played in seven Peach Bowls prior to the Peach Bowl obtaining NY6 status)
The Wolfpack enter the game with a stifling defense that is ranked in the top 10 in scoring defense allowing 11.4 points per game. The defense is led by one of the best linebacker corps in the country between Isaiah Moore, Payton Wilson, and Drake Thomas. 
Clemson head coach Dabo Swinney described the Wolfpack defense, 
"They force you to be patient in how they play structurally," Swinney said. "They will pressure you. With the way they play their front and their star player in the middle, you have to make sure everyone is on the same page. A lot of zone pressures. They'll drop defensive tackles. You have to understand where your windows are. This is a team that's a little bit more multiple in what they do coverage-wise. You have to be physical up front. They will zone pressure you to death." - Clemson head coach Dabo Swinney on NC State's defense
There are a couple of things to keep an eye on when Clemson is on offense and NC State is on defense.
For Clemson's DJ Uiagalelei, only once since his 2020 freshman breakout season has he had back-to-back games with a completion percentage above 60%. During the same time period against Power 5 competition, the former five-star has only once had back-to-back games with a positive touchdown to interception ratio.
While that seems advantageous for the Wolfpack, it's important to keep in mind that the Wolfpack have already been outgained by their opponents twice on the young season (Texas Tech and East Carolina). Wolfpack defense is clearly bendable, but they don't always break.
Another key aspect is Clemson offense is one of 13 teams in the FBS who have scored on all their red zone possessions, the Tigers are 24 for 24 in red zone scoring. 
The final key to watch while Clemson has the ball is who wins the battle of third downs.
This will be a battle of Top 10 third down units, as Clemson is sixth in the nation on converting third downs at 54.7% while NC State is tied for 7th at stopping third downs on defense allowing only 25% to be converted.
Doeren commented, 
"Yeah, that's big. You know, I think third down on both sides of the ball is going to be a huge thing. I mean, last year when we won this game, we had 42 minutes roughly of time of possession. And that's because we were successful on defense on third down, and we were successful on offense on third down, and those things lead to time of possession, which is a big deal when you're playing an explosive offense like Clemson's, you know? So we've got to manage third downs on offense, we've got to win third downs on defense, and how do you do that? Execution, obviously, but also giving yourself favorable down in distances and both sides of the ball. Trying to get them behind the chains and us trying to keep ourselves from being behind the chains. It's going to be a huge part of the game." - NC State head coach Dave Doeren
---
With the remnants of Hurricane Ian potentially impacting the game, special teams might play a huge factor. The Wolfpack have a Top 10 punt return unit that averages nearly 18 yards per return.
Both Clemson and NC State want this game bad. For Clemson they want to return to the College Football Playoff missing for the first time since the first iteration in 2014. 
Revenge is on the mind for Clemson, after seeing Dave Doeren with a victory cigar and red Solo cup. This was emphasized by Clemson guard Walter Parks, "100%, we want the revenge," he said. "Want to win the division and want to win the conference."
It will be the sixth time both teams will play against each other ranked, Clemson is 20-7 when it is ranked against NC State and only 7-5 when NC State is ranked.
Both teams are fighting for ACC supremacy and a potential College Football Playoff berth, more importantly, someone will be the man and control their destiny. Clemson may retain their status as the top program in the ACC or NC State might become the new leader of the ACC pack.