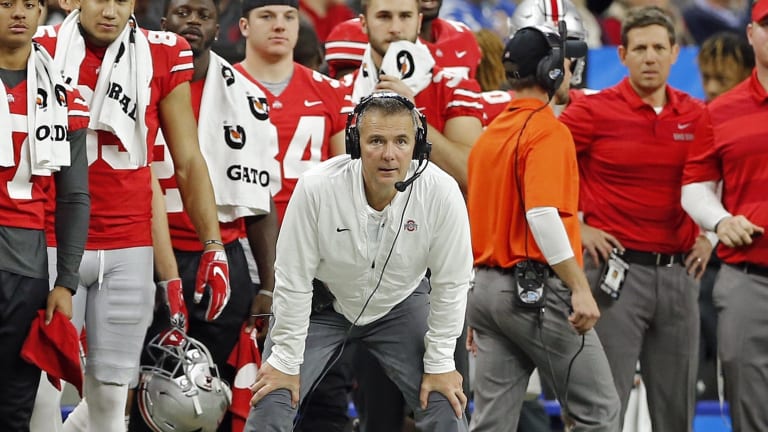 Can't Go Out Like That: Why Urban Meyer Isn't Done Coaching
Rumors of Meyer returning to coaching always loom, and eventually, he will break.
Urban Meyer is one of the most successful college coaches of all-time. With a record of 187-32 and a winning percentage of .854 (third best in college football history), three national championships, seven conference championships, and a 12-3 bowl record, he's won everywhere he's been. He's also one of the game's most polarizing figures.
Meyer, now back at the desk with FOX on Big Noon Kickoff, is fresh off a short stint with the Jacksonville Jaguars that likely haunts him every second of every day. From the start, turmoil surrounded his tenure from hiring former Iowa strength coach Chris Doyle, who was let go for issues involving racism and mistreatment of players, to early instances of players speaking out against him. Needless to say, knowing Urban and his ego, his NFL career has to leave a bad taste in his mouth and he's got to want a shot at redemption.
Many will say Urban should stay at FOX this time around and not attempt to coach again and to be honest they'd have an excellent point. Past health issues could resurface, more trouble could follow him wherever he goes, and he's honestly great as an analyst. But if the opportunity arises, should he take it? My answer is yes.
Urban Meyer has an obsession with success, and that was evident in his college career. You can tell by looking at Urban following any loss that it affects him severely and "eats away at (his) soul," as he put it in an interview following his firing from the Jaguars. Safe to say, his coaching style wasn't meant for the NFL. The man is made for college ball though, and many will attempt to call him with job offers. 
Nebraska recently fired Scott Frost after an abysmal start to their season and rumors of Urban Meyer coming to Lincoln instantly began to swirl. Even the Nebraska fanbase was clamoring for him when FOX was in Lincoln Saturday for the Oklahoma game.
The rumors of Nebraska contacting Urban were shot down within 24 hours and the claims are that Urban will no longer pursue coaching. But who are we kidding? The man has an itch for coaching stronger than any coach I've ever seen, and the Nebraska job would be a nearly ideal fit for his shot at redemption.
If Urban did come back to coaching, no NFL team is going to want him, that's set in stone. He's also not going to take a job that's not high profile because his ego won't allow that. So if you're not a brand-name team, too bad. Nebraska, though they haven't been relevant since the 90s, is a college football blue blood. They also happens to be in one of the worst divisions in college football, the B1G West. If Urban became Nebraska's head coach, they would instantly be better and would likely win the West on a yearly basis with how bad it is. It also wouldn't shock me if Urban capitalized on NIL and the transfer portal to build the program back quickly and if that led to Urban winning the B1G and maybe even a national title for Nebraska within 5 years. 
Now, obviously, a blue blood is about the only job he would take if he did come back, so Nebraska would make total sense. However, he did turn down Texas when that job was available over a year ago. But knowing Urban with his ego, his itch to coach, and knowing he won't want to end his career on a 2-11 stint in Jacksonville, it only makes sense he return to college and redeem his career by rebuilding a national brand. If I were the Cornhuskers, I would sell out for Meyer.