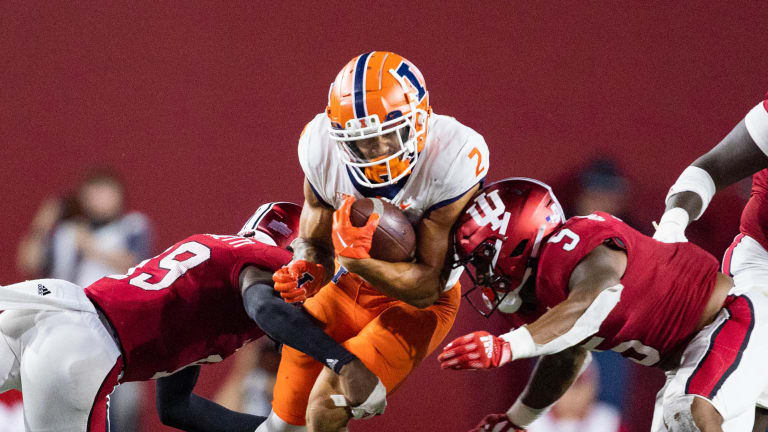 Early Season Doak Walker Frontrunners
The Doak Walker Award is presented annually to the most outstanding RB in college football. This award was created in 1990 and named after former SMU Heisman-winning RB Doak Walker. Washington RB Greg Lewis became the first to receive this award after an impressive season racking up over 1,200 yards. Current Seattle Seahawk and former Michigan State RB Kenneth Walker III was last year's winner after rushing for 1,600 yards and 18 touchdowns.
---
Doak Walker contenders are listed in alphabetical order
Braelon Allen, Wisconsin
Tank Bigsby, Auburn
Samson Evans, Eastern Michigan
Treyvon Henderson, Ohio State
Evan Hull, Northwestern
DeWayne McBride, UAB
Jordan Mims, Fresno State
Bijan Robinson, Texas
Sean Tucker, Syracuse
Deuce Vaughn, Kansas State
---
My Top 3
3. Raheim Sanders, Sophomore, Arkansas
Stats:
Raheim Sanders has been a star for this Arkansas team this season. The sophomore from Rockledge, Florida, has accounted for 100 yards in all his first three games this season. Sanders has also averaged 6.7 yards per carry. The Razorbacks have fed Raheim with over 20 carries per game. Sanders will face his biggest test this year with Texas A&M having an incredible rush defense. If Raheim can dominate the run game like he has this year, he will move up this list.
---
2. Chase Brown, Junior, Illinois
Stats:
Chase Brown has been the star for Illinois this season. After a 1K yard season last year, Brown looks to go back to back this year, and, through three games, he is already halfway there. So far this season, Brown is the best RB statistically and, realistically, can be first on this list. Chase played his first year at Western Michigan and later transferred to the Fighting Illini. Chase can become the first Illinois player to win the award.
---
1. Mohamed Ibrahim, Senior, Minnesota
Stats:
Mohamed Ibrahim tore his Achillies last year against Ohio State. Before his injury, he was a top back in college football, and it's clear he hasn't missed a beat. In just three games, Ibrahim has carried the Gopher's offense and led them to a 3-0 record. In his last game against Colorado, he rushed for over 200 yards averaging 8.8 yards per carry. Mohamed and Chase have yet to play a great run defense, and as it looks, that will be the difference between these two electric BIG Ten stars.