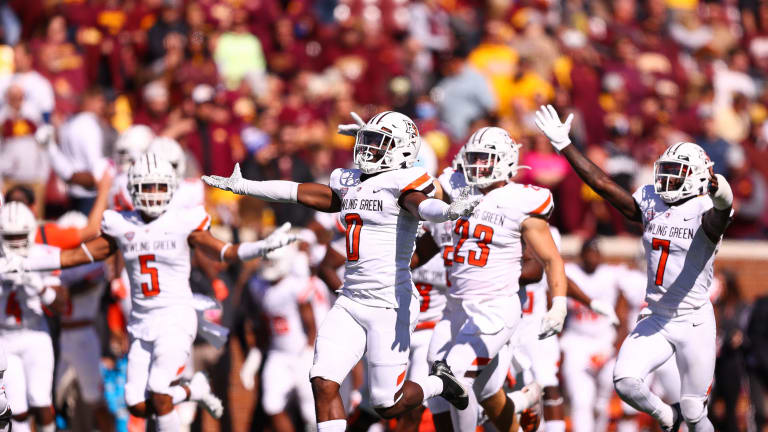 Early Season Jim Thorpe Award Candidates
The Jim Thorpe Award, named after Jim Thorpe, has been awarded annually to the top defensive back in college football since 1986. The Oklahoma Sports Hall Of Fame selects the winner by a vote amongst select members. Baylor DB Thomas Everett became the first recipient of the trophy, and Cincinnati DB Coby Bryant became the most recent recipient after an impressive season with the Bearcats.
---
Jim Thorpe contenders in alphabetical order
Jordan Battle, Alabama
Cole Bishop, Utah
CJ Brown, Northern Illinois
Jalen Catalon, Arkansas
Dorian Jackson, Western Michigan
Quindell Johnson, Memphis
Antavious Lane, Georgia State
Riley Moss, Iowa
Andrew Mukuba, Clemson
Malaki Starks, Georgia
Gabriel Taylor, Rice
---
Top 3
3. Jordan Anderson, Senior, Bowling Green
Stats:
Unless you're a Bowling Green fan or live in Ohio, you have probably never heard of Jordan Anderson. The senior safety from Detroit has torn up college football this season. Three games in with the Falcons, he has blown up plays and disrupted opposing offenses. Anderson is a hard hitter too. He is not afraid to lay a crushing hit on a player.
---
2. Gervarrius Owens, Senior, Houston
Stats:
Houston has had a slow start to 2022, going 1-2 through three games; however, the Cougar's secondary has made explosive plays to limit the damage. Gervarrius Owens is coming off his best game against Kansas, having nine tackles and a pass deflection. Owens is making a case for this award and is close to being #1.
---
1. Ji' Ayir Brown, Senior, Penn State
Stats:
15 Tackles
A Penn State DB has never won the Jim Thorpe Award. Could this be the year? Ji' Ayir Brown is a stat sheet stuffer this year and is a monster in the Penn State secondary. Brown is coming off his best game against Auburn, where he had five tackles, one sack, and an interception. At the level Brown is playing at, he could be the runaway favorite for this prestigious award.