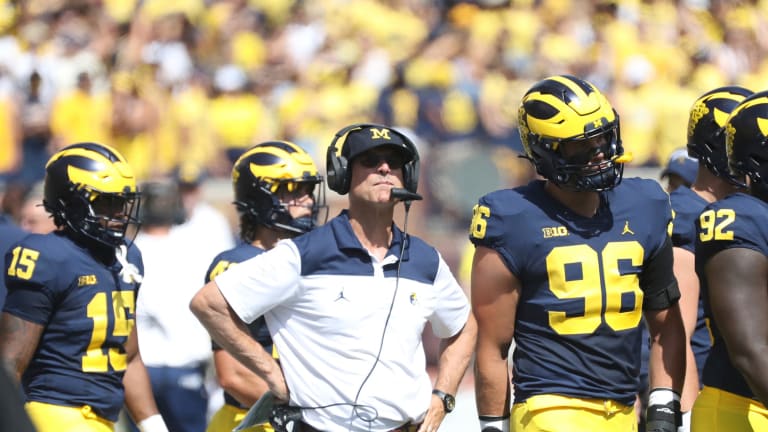 Fact or Fiction: Warde Manuel & Jim Harbaugh, Spencer Rattler Draft Status, and Dre Bly to UNC
In today's Fact or Fiction, I look at three big recent topics in college football and decide whether the statement is indeed FACT or if it's FICTION.
---
1. Warde Manuel should tell Harbaugh to leave.
Farrell's take: FACT

This foolishness continues and it just has to stop. The Michigan head coach blatantly interviewed with the Minnesota Vikings on SIGNING DAY last year and didn't get offered the job. He said it would never happen again and here we are with reports he has interviewed with the Denver Broncos and is talking to others. At first, I was thinking Warde Manuel just has to take it as Jim Harbaugh has been to the playoff twice and beaten Ohio State twice in a row but enough is enough. Tell him to leave because he's obviously not happy and satisfied.
---
2. QB Spencer Rattler can rehab his NFL Draft status.
Farrell's take: FICTION

He's coming back and he will be better but Spencer Rattler is not a valuable NFL talent anymore. Going from the projected No. 1 pick in the 2022 NFL Draft to being benched and transferring he's coming off a very average season at South Carolina with 18 touchdowns and 12 interceptions. Add in off-field attitude issues and this is nothing of a story when it comes to the NFL. He had to come back to college as his NFL stock is awful.
---
3. Dre Bly had to go at UNC.
Farrell's take: FACT

When you're a legendary player at a school you coach at it's always "mutual" when you leave. That's just out of respect. So that's how it was announced that Bly, the CB coach at North Carolina, was leaving the program. But let's be real. A reset was needed as the Heels were the worst defensive team in the ACC overall and by far worst in passing defense. Gene Chizik should probably go as well honestly but if Mack Brown was going to stay loyal to him then staff changes had to be made and this was one of them.