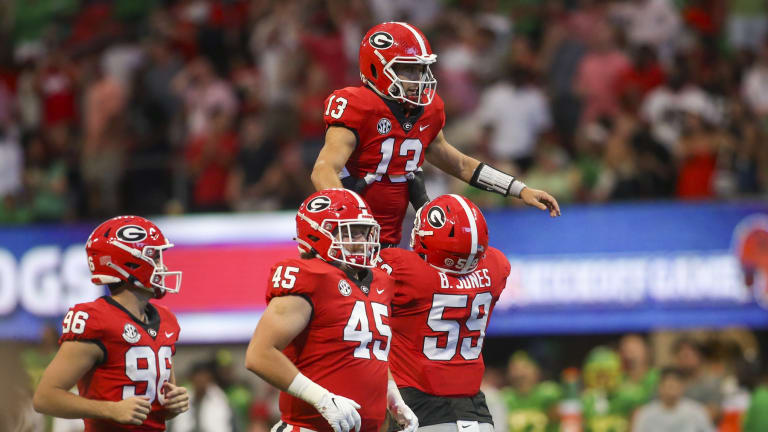 Five Teams Strengths After Week One
Following an electric week one in college football, our Luke Brumm presents the five team strengths he saw that will have a major impact on the rest of the season.
---
1. Georgia – Quarterback Play
Who would have thought that we would be saying this after last season? Stetson Bennett has been overlooked and disrespected for too long now. Even after winning a national championship, the media considered him a below-average quarterback who got lucky because Georgia had a great defense. Nobody can say that anymore. Bennett went 25 for 31 with 368 yards and two touchdowns. He finished with a QBR of 97.3 and averaged 11.9 yards per throw. More importantly, he had zero turnovers. Georgia looked strong on both sides of the ball, especially on offense. They scored touchdowns on their first seven possessions and beat number 11 Oregon 49-3. Moving forward, Kirby Smart's Bulldogs look poised to make a playoff push again this year.
---
2. Ohio State – Defense
Another thing we would not have thought we would be saying after last season, the Ohio State defense is legitimate. Ohio State brought in Jim Knowles from Oklahoma State, and we saw an immediate difference. Ohio State's defense looked excellent against Notre Dame on Saturday. They only gave up ten completions for 177 yards through the air and only gave up 76 total rushing yards against a very physical team. They held the Irish to 72 yards in the second half and pulled away to win 21-10.
---
3. Clemson – Defense
Clemson's defense played very well on Monday night against Georgia Tech. They look to be one of the nation's best again this year. It seemed like every run play by the Yellow Jackets was stopped behind the line of scrimmage, and they applied pressure to Jeff Sims on almost every pass play. Their defense only gave up 164 yards passing and 73 yards rushing. Georgia Tech was struggling all night and only scored ten points. Their offense is another story; they looked rough at times. They did improve in the second half, but that could be something to watch throughout the season. That said, I expect Dabo's defense to be elite all year long.
---
4. Oklahoma – Run Game
Eric Gray looked like a different running back than last season. He ran for 102 yards on 16 carries and averaged 6.4 yards per carry. Runningback Marcus Major ran seven times for 54 yards and averaged 7.7 yards per carry. Wide receiver Gavin Freeman also ran once for 46 yards and a touchdown. In total, the Sooners ran for 259 yards on 38 attempts. They also added four rushing touchdowns as they took down UTEP 45-13.
---
5. Alabama – Everything
Alabama looked very good on both sides of the ball. I know it was just Utah State, but Alabama dominated and won 55-0. They outgained Utah State 559 to 136 in total yards and had more rushing yards and passing yards individually than Utah State had total yards. The defense, highlighted by Will Anderson, held the Aggies to 79 yards rushing and just 57 yards passing. On offense, Bryce Young threw for 281 yards and the team ran for 278 yards. They looked very balanced on offense, and the defense was unstoppable. Alabama looked like the number one team in the country, again, shoutout to Nick Saban.