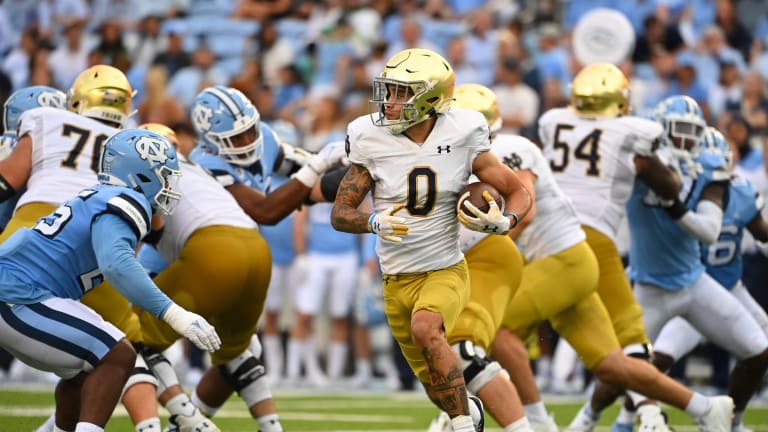 Five Teams That Were Overrated in the Preseason AP Poll
Heading into the 2022 season, the experts had it all figured out. At least, that's what we thought before week one. Now five weeks into the season, some early season rankings have aged better than others. In this article, we will take a look at five teams we feel were fraudulently overrated in the preseason AP Poll. 
---
1. Notre Dame – Ranked 5th 
Notre Dame started the season in the top five. They are currently nowhere in the top 25. They started the season with a 21-10 loss at second-ranked Ohio State. Their defense looked pretty good in that game, but you could tell there were problems on the offensive side of the football. They looked even worse the next week and lost at home to Marshall 26-21. The quarterback play was awful as they threw three interceptions, with one of them being returned for a touchdown. Two weeks ago, the Irish barely beat California 24-17. Cal almost caught a hail mary at the end to tie it also. They bounced back this past weekend with a good win over North Carolina. They look better but have a long way to go to be back in the top 25. 
---
2. Texas A&M – Ranked 6th 
Texas A&M beat Sam Houston 33-0 in week one but looked unimpressive. They looked even more unimpressive in week two when they lost to Appalachian State by three and dropped from six to 24 in the poll. They did bounce back two weekends ago with a big win over number 13 Miami. They then followed that up with a win in Arlington over top ten ranked Arkansas. They are looking better but were still overrated to start this season. 
---
3. Michigan State – Ranked 15th 
The Spartan's season has gone downhill quickly. They started with blowout wins vs both Western Michigan and Akron respectively. This is when everything started getting bad. They went out west and lost to Washington by 11 in a game where the score was closer than the actual game. Then it gets worse. They just lost to Minnesota 34-7. They haven't looked like a top 25 at all, and they have a tough schedule ahead of them. They play Maryland next and then hit a stretch of Ohio State, Wisconsin, and Michigan. 
---
4. Wisconsin – Ranked 18th 
Wisconsin only has wins against Illinois State and New Mexico State. As I mentioned, they lost a home game by three to Washington State between their two wins. The Badgers lost to Ohio State by 31 and got blown out from the start in that one. They are now 2-2 and have a chance to bounce back against Illinois this weekend. Illinois however, appears to be trending upwards and could threaten to challenge the Badgers this year. They need something to change in Madison, or this could be a long season. 
---
5. Houston – Ranked 24th 
Houston started the season ranked 24th in the country. A lot of people had them as the best GO5 team in America. They might not even be the best team in the American Conference. They played on the road against a tough UTSA team and won in triple overtime in week one. They then lost back-to-back games and sat at 1-2. They had overtime again in week two and lost by three to Texas Tech in Lubbock. The surprise came when Kansas came to Houston and won 48-30. They beat Rice by a touchdown last week and play a good Tulane team this weekend. They are back to .500, but nobody expected two losses for them at this point in the season.