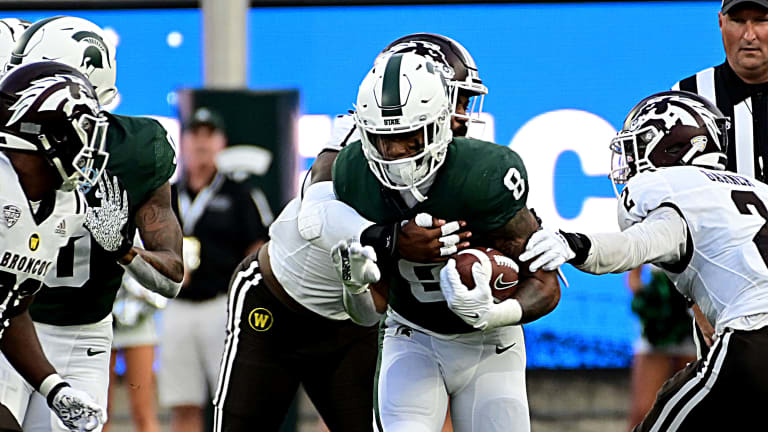 Friday's Top Transfer Portal Performers
Not much in quantity, but decent quality. I'll be out most of the day but wanted to get this to you.
We are taking a look at some of the impressive performances by new transfers during Friday night's action
---
Michigan State
Offensively, the two-headed monster of Jalen Berger (Wisconsin) and Jarek Broussard (Colorado) combined for 174 yards and one touchdown on 26 carries, with Berger leading the way with 120 yards and the score. Tight end Daniel Barker's (Illinois) first, and only, reception of the game was a memorable one-handed touchdown grab, while the pass rush smothered the Western Michigan quarterback all game long. Leading the way was linebacker Jacoby Windmon (UNLV), who totaled seven tackles and an eye-opening four sacks. Also adding sacks were Khris Bogle (Florida) and Aaron Brule (Mississippi State). Overall it was an impressive showing for the Spartan transfer additions.
---
Kansas
The Jayhawks put together a sneaky good portal group this year and several of these players showed out in their first game. The star of the show was defensive end Lonnie Phelps (Miami-Ohio) who terrorized Tennessee Tech with seven tackles, four tackles for a loss, and three sacks. On defense, linebacker Eriq Gilyard (UCF) added five tackles, a tackle for a loss, and an interception. Offensively, Sevion Morrison (Nebraska) had eight carries for 70 yards and one touchdown.
---
Indiana
Quarterback Connor Bazelak (Missouri), who wasn't publicly named the starter until pre-game warmups, shined while completing 28 of 52 passes for 330 yards and one touchdown. This was especially important during the victory over Illinois as the running game struggled mightily. Defensively, linebacker Bradley Jennings Jr. (Miami-Florida) had six tackles, 1.5 tackles for a loss, and a sack, and defensive lineman JH Tevis (Cal) had four tackles and two tackles for a loss. 
Eastern Michigan

Quarterback Taylor Powell had an impressive first game for the Eagles, completing 21 of 30 passes for 271 yards and three touchdowns. He also added a rushing touchdown during the victory over FCS Eastern Kentucky. Defensively, the unit was led by linebacker Chase Kline (Michigan State), who had a team-leading nine tackles and a pass break-up.