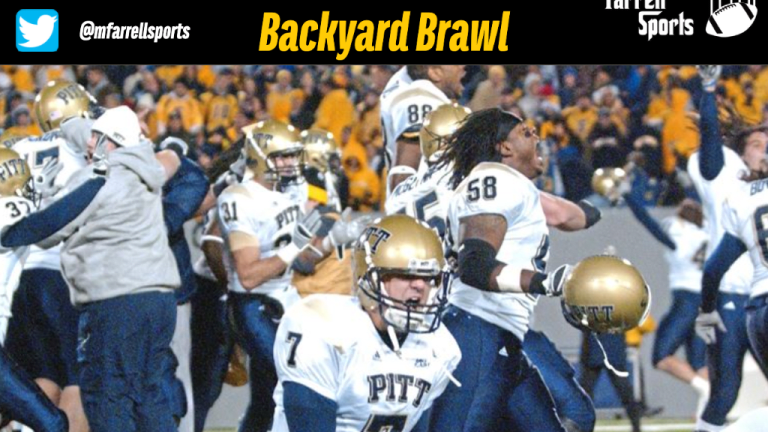 Game Preview: 2022 Backyard Brawl
Game Preview: 2022 Backyard Brawl
History:
Pitt leads the all-time series at 61-40-3, but the rivals have not played each other since 2011.
West Virginia has won the last three head to head matchups, also winning 7 of the last 10 games.
---
Betting Line (as of this writing):
Pitt -7.5 (Over/Under 51.5)
---
Backstory:
The two teams that are separated by just over 75 miles via I-79 and both programs have encountered interesting crossroads as both participants kickoff their 2022 seasons.
Pitt had its most successful season in a generation last season, winning the ACC Championship, going to a New Year's Six Bowl, had a Heisman Finalist, and a Biletnikoff winner.
The first ripple was the abrupt resignation of Offensive Coordinator Mark Whipple who took the same position at Nebraska. Pitt Head Coach Pat Narduzzi has had some interesting remarks about how Whipple coordinated his offense, "Our old offensive coordinator had no desire to run the ball," Narduzzi said. "Everybody knew it. He was stubborn. Wake Forest was 118th in run defense, and we threw the ball every down. When we ran it, we ran it for 10 yards, but that wasn't good enough."
After the bowl game, the drama continued for Pitt as Biletnikoff Award winner Jordan Addison hit the transfer portal and transferred to Southern California.
Pitt, however, was able to replace Kenny Pickett with Southern California transfer Kedon Slovis.
For West Virginia, Neal Brown had a very mixed 2021 season. It started with heartbreak losing three of their first 5 games, all by six points or less against Maryland, Oklahoma, and Texas Tech.
In that stretch, Brown got his first signature win, when the Mountaineers upset Virginia Tech, who was ranked No. 15 entering the game, 27-21 at Mountaineer Field. At the midway point the Mountaineers were 2-4, Brown rejuvenated a squad to achieve bowl eligibility by defeating TCU, Iowa State, and Texas to finish the season.
WVU, like its opponent, has a former quarterback from Southern California in JT Daniels, who came to Morgantown via Georgia.
---
What To Watch For
This will be the biggest home opener for the Pitt Panthers in a decade since Jameis Winston began his Heisman Trophy campaign for Florida State in 2013.
Both programs will have two new offensive coordinators - Pitt will be with Frank Cignetti Jr. who was previously an Offensive Coordinator at Pitt from 2009-2010, brings a pro-style offense to the Pitt program that Narduzzi likes.
WVU brought in former Southern California offensive coordinator Graham Harrell to coordinate the offense. Last season, Brown used Gerad Parker and Chad Scott as co-offensive coordinators, Parker is now coaching tight ends at Notre Dame while Scott remains as running game coordinator and running backs coach.
On the field, all eyes will be on the transfer quarterbacks. Slovis won a quarterback battle over Nick Patti, which most prognosticators thought would be closer than it turned out to be.
For the Mountaineers, what did JT Daniels glean from his experience backing up Stetson Bennett during Georgia's national championship run last year.
Eyes will also be on while Pitt is on offense Konata Mumpfield, the Akron transfer who had 63 receptions and 8 touchdowns for the Zips last season, who all the Pitt coaches have raved about his leadership, his hands, route running, and speed. It will also be interesting how much Cignetti uses tailback Israel Abanikanda in the new offense.
On defense the Panthers have one of the best defensive lines in the ACC anchored by Calijah Kancey, Deslin Alexandre, and Habakkuk Baldonado.
On offense the Mountaineers shifted Wyatt Milum from right tackle to left tackle, and how he protects Daniels from assignments against Alexandre and Baldonado will tell how much of the Air Raid offense Bennett will be able to execute.
On defense for the Mountaineers, Brown has to be thrilled Dante Stills returned for a senior season at defensive tackle. Any disruption Stills and nose tackle Jordan Jefferson can do to occupy blockers will be key to thwarting the Panthers' pro-style offense. 
---
For Pitt To Win:
Pitt simply cannot beat itself. They have the home field advantage and talent advantage in this contest. For Narduzzi to keep the offense very similar to what they ran last season was key, and look for Abanikanda to get more touches and looks in Cignetti's system.
Establishing the lead vertical threat early will be key for the Panthers.
For WVU To Win:
It has to win the line of scrimmage on both sides of the ball.
The WVU offensive line does not have an easy assignment Thursday night and it might be matched up against one of the best groups they will see all year.
The defensive line has an easier assignment but with all the transfers and new starters on the Mountaineer defense, the leadership on the defensive line has to give the back seven opportunities to make plays and get turnovers.
What Will Happen:
This is a rivalry game and one of the more intense rivalries, however for the players playing in this game this is the first time knocking heads.
Narduzzi has blasted "Country Roads" to ad nauseam to the Panthers during spring and summer ball and I am willing to bet after the rust comes off for the Panthers, the talent advantage will shine through and they will be sending the Mountaineers back to Morgantown with that John Denver album.
Final Score: Pitt 31 WVU 19