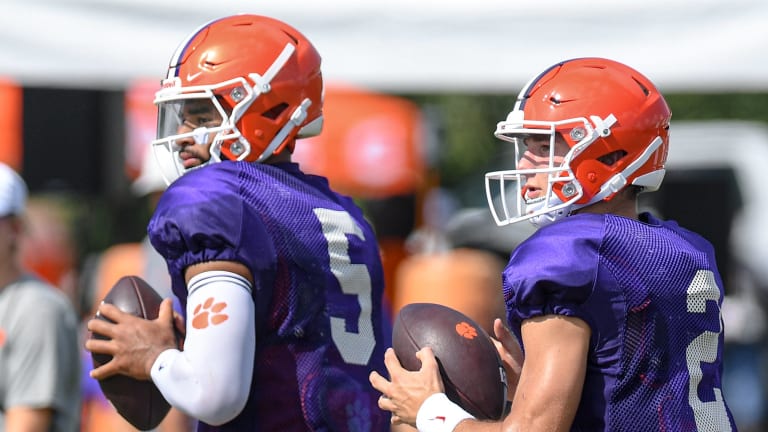 Game Preview: Clemson vs. Georgia Tech
Tigers look to rebound after missing playoffs for the first time since 2014
History
Georgia Tech leads the series 50-34-2. However, Clemson has won seven consecutive meetings in a row and nine of 10 previous meetings. 
Georgia Tech last won 28-6 in 2014.
---
Betting Line (as of this writing)
Clemson -23; (O/U 51) (courtesy betonline.ag)
---
Backstory
Clemson might be nearing a completion of a reload for their program. 2021 marked the first time they missed the College Football Playoff since its inception in 2014. 
Tigers head coach Dabo Swinney had to deal with a rash of injuries, especially to his defensive line, poor offensive production, especially from the quarterback position, and then both his coordinators took head coaching vacancies. 
On the injury front, at one point 41 of 85 Tigers were injured and missed time during the 2021 season.
With coaching moves, Swinney promoted from within on the coordinator from with Brandon Streeter as offensive coordinator (replacing Tony Elliott who is now at the University of Virginia) and Wes Goodwin as defensive coordinator (replacing Brent Venables who is now at the University of Oklahoma). 
Streeter is tasked figuring out where the offense fell off the rails with the 82nd scoring offense and 100th in total offense and of finding out is quarterback DJ Uiagalelei is the answer for his offense. Uiagalelei averaged 172.8 yards per game last year and that was good for 88th in the country. 
The question will be how much was injuries attributed to the performance of the Clemson offense and if a healthy offense continues to play poor for Clemson, when will we might see Cade Klubnik play? 
On defense, Goodwin has to live up to one of the all time Clemson coaching pillars in Brent Venables. Even with the significant injuries to Bryan Bresee and James Skalski, Andrew Booth Jr., Tyler Davis, Nolan Turner, Fred Davis all missed time as well, yet the Tigers defense managed to still be the No. 2 scoring defense in the country and top 10 in rushing and total defense last year. 
Goodwin gets back a healthy Tyler Davis and Bryan Bresee to complement a very talented front four with Myles Murphy and Xavier Thomas on the ends. Sheridan Jones, Fred Davis, and Nate Wiggins, whom Clemson coaches including Swinney have raved about, attempt to replace Andrew Booth Jr. and Mario Goodrich who were both First Team All-ACC corners last season. 
For the Ramblin' Wreck of Georgia Tech, things haven't gone well for head coach Geoff Collins. Attempting to replace Paul Johnson, who guided the Yellow Jackets to three ACC Division Championships, the 2009 ACC Championship and appeared in nine bowl games in 11 seasons, hasn't really gone over well. 
Collins is 9-25 in three seasons at Georgia Tech and for a program that at least likes to get to bowl games to keep the base happy, Collins hasn't lived up to that standard. 
---
What To Watch For
For Clemson it is Uiagalelei, his leash isn't as long, even with the over the top endorsement from Dabo Swinney, it is all about how he performs. 
Last season the Tigers squeaked away at home against Georgia Tech 14-8, this is a far cry from their previous three encounters where the Tigers averaged 58 points per game between 2018 to 2020. 
Also seeing what a healthy defensive line does against a Georgia Tech offensive line that returns one starter. 
For Georgia Tech, it is going to be riding on the experience of returning starters quarterback Jeff Sims, receiver Malachi Carter, and tight end Dylan Leonard. 
---
For Clemson to Win
On every single level, Clemson is much more talented than Georgia Tech. With that talent superiority, it is having that focus to achieve the goal and not playing down to the level of their competition. 
Uiagalelei can really put this one away early and get guys like Will Shipley, Kobe Pace, Joseph Ngata, E.J. Williams, and Brandon Spector involved. We also might catch a glimpse at freshman Antonio Williams, who was a four-star recruit out of Dutch Fork HS in Irmo, SC and see what he has to offer.
For Georgia Tech to Win
Compete on every down. It seems cliche, but they cannot take a play off and win this game. 
The margin of error is zero for the Yellow Jackets. They almost pulled off the upset last season and what thwarted their efforts was going 3 for 14 on third downs and committing 10 penalties. 
---
What Will Happen
Not sure how Atlanta is neutral site for this contest considering Bobby Dodd Stadium is 1.5 miles from Mercedes-Benz Stadium, where the game will be hosted. 
Georgia Tech's lone advantage is that proximity. Clemson is frustrated from an underachieving 2021 season and look to rebound in a  big way. 
I expect we will see a lot of Tigers earn their stripes in this game and causing many wrecks for the Yellow Jackets. 
Final Score: Clemson 56 Georgia Tech 10