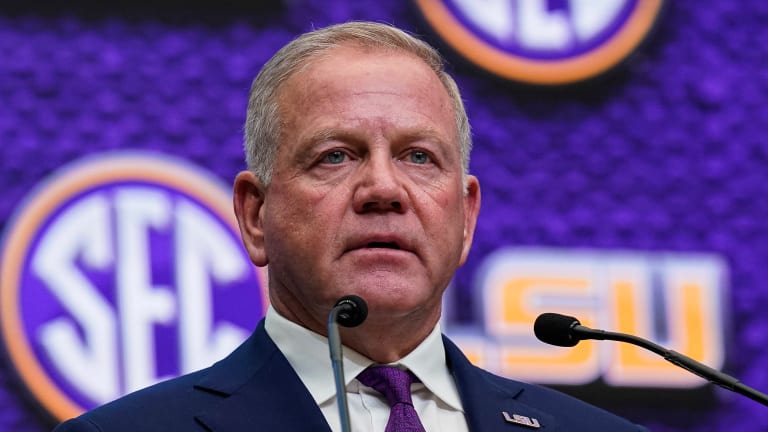 Game Preview: Florida State vs. LSU
Two rebuilding powerhouses square off in New Orleans
History
Florida State and LSU have met nine times previously, with the 'Noles hold a seven to two series advantage, including the previous four contests. This is the first time they have met since 1991, when Florida State defeated LSU in Baton Rouge 27-16.
This is the first neutral site game since the teams first squared off in the 1968 Peach Bowl with LSU winning 31-27.
---
Betting Line (as of this writing):
LSU -3.5; O/U 50
---
Backstory
The tumultuous Ed Orgeron tenure ended after the 2021. Orgeron, after being on top of the college football world in 2019, went 11-11 in the 2020 and 2021 campaigns. Additionally, there were rampant rumors and salacious stories that in the end made him the second SEC national championship winning coach fired two years after winning the title (Gene Chizik).
LSU brought an adult in the room with the mature Brian Kelly who departed Notre Dame. He's seeking to complete his hall of fame resume with a national championship at the FBS level (he already has two Division II national titles at Grand Valley State).
Kelly enters his first season at LSU with a solid foundation around him. He has one of the better defensive lines in the nation, anchored by Jacquelin Roy, Maason Smith, and Ali Gaye. Kayshon Boutte, is the next in line of great LSU wide receiver, is amongst the best in the nation.
Another program still picking up pieces is Florida State. 
The Seminoles between 2012-2016 under Jimbo Fisher went 60-9, winning three ACC Championships, 2013 National Championships, appeared in a New Year's Six Bowl in every season. 
After the fallout of the 2017 season, Fisher left Florida State for Texas A&M, leaving the program wanting to return to the top of the ACC mountain and amongst the national elite. 
The Willie Taggart era will always be in question, and with Mike Norvell entering a critical third season in Tallahassee with a poorer record than his predecessor, one has to wonder just how much time is left for the former Memphis coach. 
FSU did open their season last week in a Week 0 contest with FCS Duquesne. The Seminoles cruised to a 47-7 victory over the Dukes, highlighted by the Seminoles ground game which logged over 400 yards rushing, for the first time since 2016, and had three rushers go over 100 yards. 
---
What To Watch For
Kelly tabbed Arizona State transfer Jayden Daniels to be LSU's starter over a very competitive competition with Garrett Nussmeier. In 2021, Daniels completed 65.4% of his passes for 2,380 yards and 10 touchdowns for a QBR of 67.2, good for 43rd in the country last season. The key for success for him in Baton Rouge will be how frequently and efficiently he can get the ball to Kayshon Boutte. 
The Tigers last season had the 114th ranked ground game, averaging appropriately 114 yards per game. Look for that to improve under Kelly with Penn State transfer and Louisiana native Noah Cain returning home. Cain had a very promising 2019 freshman season in Happy Valley teaming with Journey Brown, Cain had 443 yards rushing and 8 touchdowns with 84 carries. A lower leg injury against Indiana derailed his 2020 season and he really never found his way back in the Nittany Lion depth chart. 
For Florida State, it is hard to glean much from a demolition of a FCS opponent but the Seminoles did what they were supposed to do against lower competition at home. The Seminoles rushed for 406 yards, had 33 first downs, and had 638 total yards of offense. 
Florida State will go as Jordan Travis goes. Last week he was an extremely efficient 11 of 15 for 207 yards with a QBR of 84.5. With that being said, going against LSU in the Superdome is a completely different ballgame than facing off Duquesne at home. If Mike Norvell and the 'Noles are playing three quarterbacks again this week like the did against Duquesne, something has gone very, very wrong.
---
For LSU To Win
LSU enters this neutral site game with a distinct home field advantage with it being at the Caesars Superdome in New Orleans. Their entire defensive line are all future NFL players, and they should simply dominate the 'Noles OL. Pro Football Focus has defensive tackle Jaquelin Roy as its No. 3 defensive tackle and with Maason Smith who LSU coaches have marveled over is going to be a big factor. 
Offensively, the Tigers need to get a consistent ground attack centered around Noah Cain, allowing Boutte to see more single coverage on the outside. If they can get the play action game working 
For Florida State To Win: 
This is a game Mike Norvell wishes it had Jermaine Johnson back another game. LSU will be starting freshman sensation Will Campbell at left tackle, as he out performed and stood out. This is where Jared Verse or Derrick McLendon need to step up. 
Verse had 4 tackles, 1.5 tackles for loss, and a sack last week against Duquesne.
Treshaun Ward, who led the ground attack last week with 14 carries 127 yards and 2 touchdowns, needs to be effective and help quarterback Jordan Travis out.
---
What Will Happen?
In his first "family gathering," Kelly is not looking to disappoint the clan. 
LSU has the better athletes of the two, Florida State will play it close for a half but eventually LSU will pull away in the second half.
Final Score: LSU 33 Florida State 17