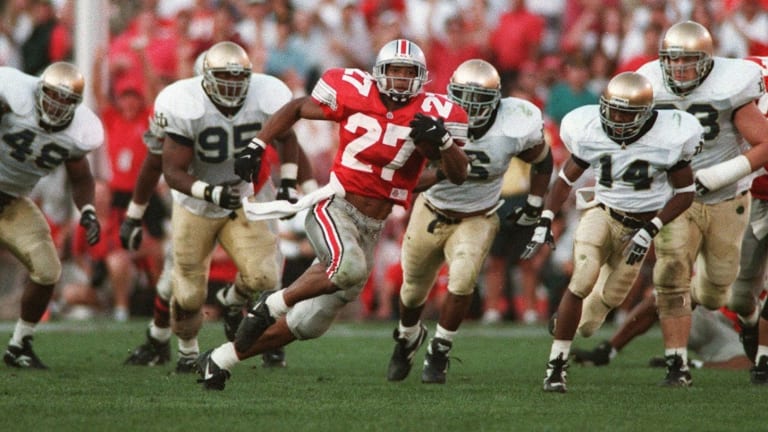 Game Preview: Ohio State vs. Notre Dame
Former Buckeye Freeman leads Irish in first road game as head coach
History
Ohio State leads the all-time series 4-2
This is the first meeting in Columbus between the two programs since 1995. 
Notre Dame last won in 1935, 18-13. 
Ohio State has won the last four meetings, including two matchups in the Fiesta Bowl.
---
Betting Line (as of this writing):
Ohio State -16.0; O/U 59.0 via Draft Kings
---
Backstory
When you have two college football bluebloods lock it up in Week 1, like Notre Dame and Ohio State, it is college football pageantry at its finest. 
One of the main storylines is the first regular season game for Notre Dame head coach Marcus Freeman. 
Freeman stepped into the head coaching seat for the departed Brian Kelly, who went to LSU and returns to his alma mater in this primetime clash. 
Freeman was a two-time All-Big Ten linebacker selection for the Buckeyes in 2007 & 2008 and is in the Top 20 all time at Ohio State in career tackles.
Freeman's first game as head coach was last season's Fiesta Bowl against Oklahoma State. 
Outgoing Oklahoma State defensive coordinator Jim Knowles is now the defensive coordinator at Ohio State, with him not officially taking the position until January 2 of this year, after the Fiesta Bowl.
It will be interesting what Knowles and Freeman gleaned of one another then and how they will adjust to Saturday's primetime matchup (Knowles did not coordinate the Cowboy defense for the Fiesta Bowl -defensive line coach Jim Bob Clements, cornerbacks coach Tim Duffie, and safeties coach Dan Hammerschmidt did). 
Knowles's defense he is coordinating will be what most fans look at for Ohio State. 
Ohio State uncharacteristically last season had a down defense being 38th in scoring defense, 97th in passing defense, and 59th in total defense.
---
What To Watch For
Ohio State's defensive line did not have that high-end elite rusher that has been a signature for the Ohio State defense the past decade led by the Bosa's and Chase Young. 
Knowles will be using his 4-2-5 defense he used in Oklahoma State at Ohio State, a new look for the Buckeyes.
Watch for former 5-star sophomore J.T. Tuimoloau at defensive end and senior Zach Harrison, who is at the JACK position, and how much havoc they can create. 
Backing up Harrison is another former 5-star defensive end in Jack Sawyer, and it will be interesting to see his involvement. 
Last season, the Buckeyes had its poorest play at the linebacking position in decades; it will be interesting to see juniors Steele Chambers and Tommy Eichenberg adjust to the new scheme. 
Offensively, Ohio State has the best core of wide receivers in the country, led by Jaxon Smith-Njigba, Marvin Harrison Jr, Julian Fleming, and Emeka Egbuka - this will be a challenge for the Irish secondary who replaces Consensus All-American Kyle Hamilton with 2020 All-American Brandon Joseph from Northwestern. 
Getting this far in the article and mentioning a Heisman candidate at quarterback shows how deep Ohio State is. After an amazing Rose Bowl performance, C.J. Stroud has all the tools to build on a season where the Buckeyes have the No. 1 scoring offense at 45.7 points per game and No. 3 passing offense at 380.9 yards per game. 
For Notre Dame, they have Mackey Finalist Michael Mayer, who is Notre Dame's best vertical threat at tight end. 
The wide receivers for the Irish are nowhere near the level of the Buckeyes, but sophomore Lorenzo Styles had a breakout in the Fiesta Bowl against the exact scheme he will be seeing today, he had eight receptions for 136 yards and a touchdown that day and true freshman Tobias Merriweather who is 6'4" has been a deep threat wunderkind during the spring and summer might see some action today. 
The Irish return all five starters on the offensive line, and Chris Tyree at running back will need to make plays to help new quarterback sophomore Tyler Buchner to manage the Irish offense.
---
For Ohio State to Win
If Ohio State continues its mastery on offense, Notre Dame does not have the firepower to get into a track meet with the Irish.
It will be how the defense has improved for the Buckeyes that will determine Notre Dame's fate.
For Notre Dame to Win
For some odd reason, Ohio State comes out of the gates slowly. 
Grant, the competition has been inferior, and maybe they are playing at their level. 
Ohio State hasn't been upset because the opposition hasn't had the talent to close the door, but Notre Dame does. 
Remember that this is the same scheme overall that Notre Dame saw in the Fiesta Bowl in January. While the Buckeyes have way more talent than the Cowboys did, Notre Dame did get a solid preview of what a highly functioning Knowles defense performs at (Oklahoma State was Top 10 in scoring, rushing, and total defense last season).
---
What Will happen?
I believe, in due time, that Knowles will get his defense to the level he had at Oklahoma State; I don't think it will be Week 1 versus the Irish. 
Utah was able to score big on this similar cast back in January, and to me, the question of elite pass rush and linebacker play still looms for the Buckeyes.
This will be a back-and-forth matchup, I feel the Irish have the weapons to compete, and I think their experienced offensive line will give the Irish timely running and time for Buchner to hit passes.
I will either be a genius for this take, or I will be subject to Freezing Cold Takes. 
Final Score: Notre Dame 31 Ohio State 26