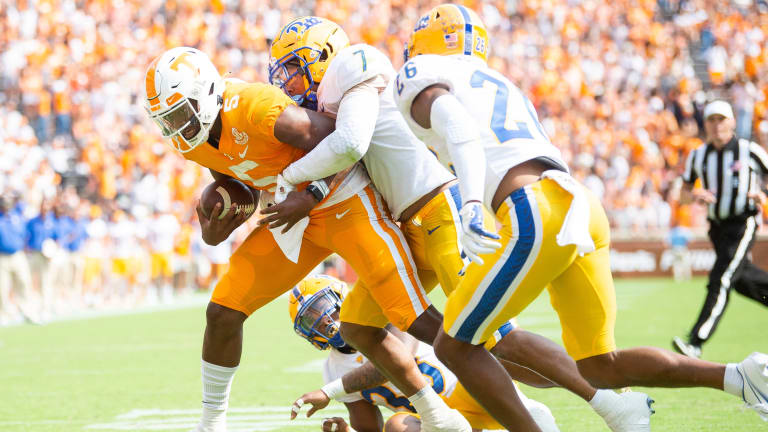 Game Preview: Tennessee vs Pittsburgh
Vols looking for first win against Panthers
History
Pitt leads the all time series 3 to 0 on the heels of their victory in last year's matchup, when they won 41-34 in Neyland Stadium. This is the first matchup between the schools that will take place in Pittsburgh. 
Both programs labeled the series "Johnny Majors Classic," in tribute to the hall of fame coach.Majors was a Heisman finalist as a player at Tennessee and won 116 games and 3 SEC Championships as head coach at Tennessee. He was the head coach for Pitt's last national championship team in 1976.
---
Betting Line (as of this writing): 
Tennessee -6.5 (O/U 65.5) via FanDuel
---
Backstory
The Panthers come off an emotional victory over rival West Virginia in the Backyard Brawl. Pittsburgh defensive back M.J. Devonshire had the game clinching score on a pick-six to put the Panthers up for good 38-31. 
"I just knew I had to run as fast as I could," Devonshire told the AP, "This is one of the greatest rivalries in college football and I just did something crazy I'm going to get to tell my kids about."
After the win, Panthers head coach Pat Narduzzi said the performance of former Southern California quarterback Kedon Slovis was "solid," but that at times, Slovis held onto the ball too long. Slovis quietly put together a solid evening going 16 for 24 passing for 308 yards and a touchdown pass to Panther running back Israel Abanikanda. 
Offensively, the 2021 Volunteers were one of the best in the history of the program. The Volunteers offense scored a program record 511 points, averaging 39.3 points per game which was No. 7 in the nation for first year head coach Josh Heupel. 
Heupel during the season had a quarterback change transitioned from Joe Milton to Hendon Hooker. Hooker took advantage of the situation completing 68.4% of his passes for 2,945 yards, 31 touchdowns to only three interceptions. 
The Volunteers historic offense kept to its electric ways demolishing Ball State Cardinals of the MAC by the score of 59-10. Tennessee had 569 yards of total offense and 32 first downs against the Cardinals.
Heupel said in his Monday press conference summing up the Volunteers efforts against Ball State, "After watching the (Ball State) ballgame from the other night, there are some things that were really positive. Like what we did in all three phases. Some things we've got to grow through here really quickly before we go play this Saturday afternoon."
---
What To Watch For
With the Mountaineers focusing on defensive line standouts Calijah Kancey and Habakkuk Bladonado having a rather quiet game, the Deslin Alexandre injury will be key to see if he will be able to go for the Panthers this week against the Volunteers. 
If he isn't, senior John Morgan III will help the Panthers not miss a beat. In relief of Alexandre, Morgan III finished the evening with 4 tackles, 3 tackles for loss, 2 quarterback hurries, and a sack. 
It will be interesting to see how Narduzzi tweaks his gameplan in light of the aforementioned criticisms. The Volunteers pass defense a season ago finished 122nd in the nation giving up 273.2 yards per game through the air. Panther receivers will need to step up, look to see what Jared Wayne, Konata Mumpfield, and Bub Means do. 
For the Volunteers, the matchup of their wide receiver core of Cedric Tillman, Bru McCoy, and Jimmy Holiday fare as they face a rebuilding but talented Panther secondary of Marquis Williams, A.J. Booth, and last week's hero M.J. Devonshire. And of course, Volunteers quarterback Hendon Hooker is always a must watch. 
Defensively the Volunteers need to improve their pass rush. While they were able to rush Cardinals quarterback John Paddock seven times, they were unable to get a sack. 
Heupel was asked at his Monday press conference about Ball State's scheme at protecting the quarterback and the inability for the Vols defense to get a sack, 
"As far as just pressure, I thought we were able to apply some pressure. We weren't able to get home. Some of that was the structure of what they were doing, their concepts. Getting the ball out of the quarterbacks hands extremely quickly, the protections they were using. I thought overall up front, there was a lot of positive growth that we wanted to see from them." - Josh Heupel
---
For Pitt To Win
The Panthers need to win this game in the trenches. Their defensive line has to be a bigger factor than they were against the Mountaineers in Week 1. 
The Volunteers had a poor pass defense a season ago, and Ball State was still able to complete 27 of 43 of their passes. Slovis needs to be on point, but more importantly Wayne, Mumpfield, and Means have to have impact. 
For Tennessee To Win
Tennessee has to hope this ends up a track meet like last year's 41-34 contest was. The Tennessee defense can ill afford this week to not get to the quarterback and can ill afford be poor at pass defense. 
While they can exhale that Kenny Pickett and Jordan Addison aren't back, the Panthers still are very talented in the air. To me, the matchup of Tennessee's receivers and Pitt's secondary will be very telling.
Also keep in mind the Mountaineers nearly got 200 yards rushing on the Panthers defense, could be a big day for the Volunteers ground game.
---
What Will Happen?
The Volunteers will get to Slovis at least once, but they will continue to struggle to effectively rush the passer. On the other side, I think it's a safe bet that the Panthers defensive line has a much better week than last and will get to Hooker more often than they did to JT Daniels. 
While I feel we will see more splash plays from the Panthers, there is something that was a giant tell from the Backyard Brawl and that was Pitt's run defense. Tennessee will be effective on the ground and that will allow Hooker and the playbook to be wide open. 
I expect another track meet, and this time Tennessee gets that first signature win for the Heupel program.
Final Score: Tennessee 44 Pitt 41