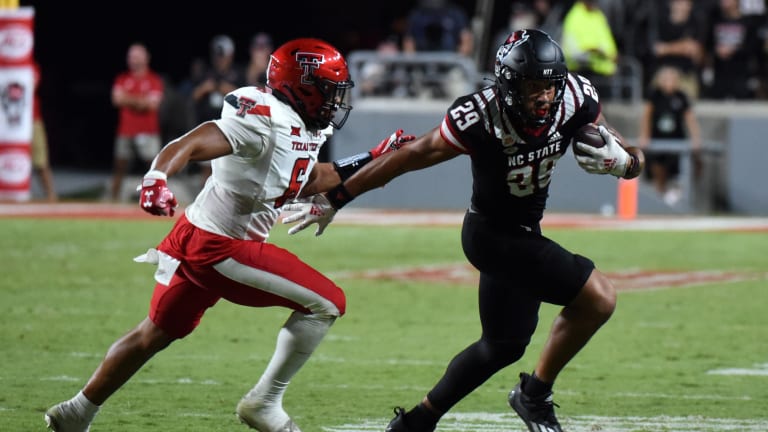 Game Reaction: NC State Pinned Texas Tech in
NC State was opportunist, and managed to keep the Red Raiders at Bay
NC State defeated Texas Tech 27-14 in a sloppily played game in Raleigh on Saturday night. As many games are in college football, the game was decided by a lopsided turnover margin. The Red Raiders turned it over four times to just the one time for the Wolfpack. Simply put, that's not the way to get it done against a top 15 opponent on the road. NC State raced out to a 20-0 lead early, after collecting a muffed punt, and returning a Donovan Smith interception 84 yards to the end zone. 
Devin Leary not playing to expectation
Leary came into 2022 with expectations of perhaps being a first-round quarterback, but through three weeks that is not what we have seen. In his two match-ups against football bowl subdivision teams, Leary is 32/56 for 332 yards one touchdown, and one interception. To put it shortly, this is not up to expectation and is averaging less than six yards per pass attempt. The Wolfpack will need him to step up and be the player he was expected to be in order to seriously contend for the ACC championship.
---
Wolfpack has been winning, but four-leaf clover won't get it done
Let's be honest here, NC State needed an All-AAC kicker to miss an extra point, and a game-winning field goal attempt to survive ECU, and needed Texas Tech who outgained them by over 100 yards to commit four turnovers, several of which were more errors on Tech than excellent plays or forced by the Wolfpack defense. Though, that unit has played well as a whole this season. The offense is going to need to find its grove quickly, after this upcoming scrimmage against UCONN, NC State will play Clemson, Florida State, and Syracuse in three consecutive weeks. Two of these games will be played on the road. 
---
The Texas Tech perspective
The Red Raiders were not "supposed" to win this game, and are coming off a win over Houston. This is a solid amount of momentum for first-year head coach Joey McGuire and crew heading into Big 12 play. QB Donovan Smith is tough as nails, while Tech awaits the return of starter Tyler Shough. The Red Raiders will host Texas next weekend.