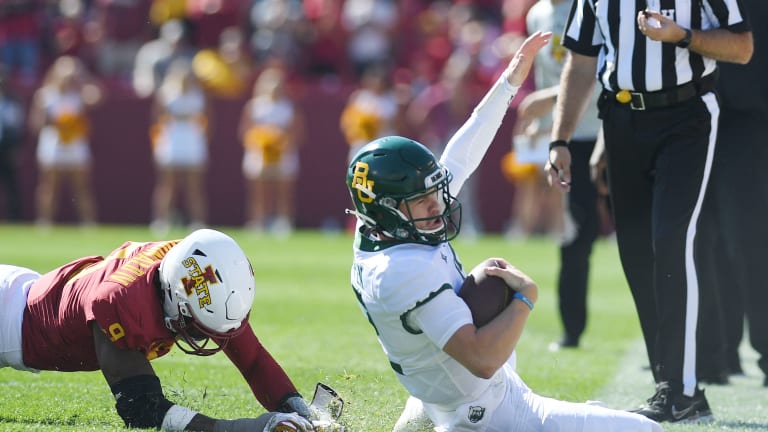 Game Recap: Baylor defeats Iowa State 31-24
Baylor out-disciplines Iowa State in a game decided by turnovers and critical moments
Turning Point in the Game
It was 17-14 Baylor at half time and Iowa State got the ball to start the half. Iowa State was at home and had the momentum after scoring before halftime. But a Devin Neal interception quickly turned that momentum as Xavier Hutchinson was unable to complete the grab!
Baylor Game Ball
Blake Shapen
The Big 12 Championship game MVP staying on a roll, and making this Baylor attack far more lethal! 19/26 238 yards 3 TD
Iowa State Game Ball
Jirehl Brock
14 carries 73 yards, TD 5.2 yards per carry
Matt! Get this man the ball more!
Game thoughts & Notes
Dave Aranda is tough, and his team came out in the first and second quarters and showed it on the road in a tough environment scoring first in both quarters. This set the tone for the ball game, which kept the Cyclones at arm's length the whole game. 

As for Matt Campbell, it's the same old same old. turnovers, undisciplined play being the margin of defeat. -2 in the turnover margin, over the last few years that seem to be why the Cyclones have lost big games since their expectations began to rise. 
What it Means for Baylor
Road wins against quality teams are hard to come by, Baylor went in there and handled business. Great way to start the quest to defend their Big 12 championship.
What it Means for Iowa State
For Iowa State, that's a home game down, and a home game lost in conference play. This was a chance to beat a Big 12 contender at home, so now they have to find a way to regroup and get back on the horse.