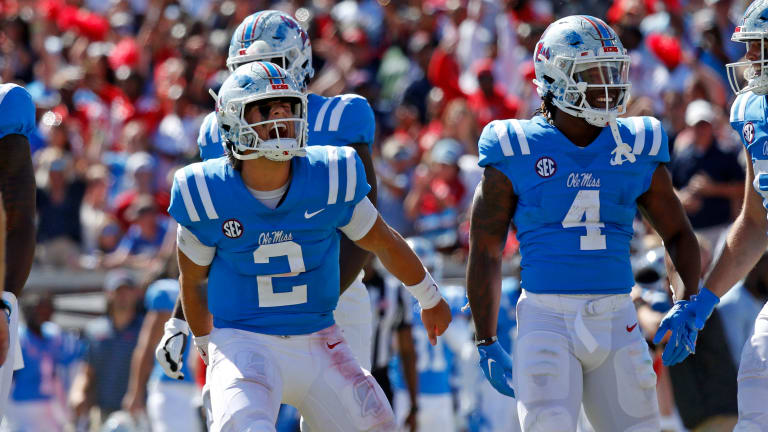 Game Recap: Ole Miss defeats Kentucky 22-19
Ole Miss leans on run game, and defense to edge out Kentucky
Ole Miss raced out in front 14-0 in the first quarter but quickly surrendered momentum back giving up a long kick return. Kentucky scored a touchdown right after, but in a weird trend for the day would miss the point after, after earlier missing a field goal attempt. Ole Miss would score on a safety and field goal, and Kentucky would also score another touchdown, but fail on the two-point try. It was 19-12 at halftime. You could tell that Will Levis, though he made some nice plays in the game at times was not himself with the countless injuries he had suffered. Still, at the beginning of the second half, he would find Pringle for the score and tie the ball game. 
The Rebels would answer with a field go and go up 22-19 with 2:19 to go in the third quarter. Ole Miss defense would rise to the occasion, forcing two Will Levis fumbles in their red zone, and a turnover on downs. And hang on to win by that 22-19 margin.
Turning Point in the Game
Because the game was so competitive and down to the wire, Will Levis was stripped with just under a minute left in the ball game sealing the win for the Rebels!
Ole  Miss Game Ball
Quinshon Judkins
The freshman can't be stopped having 106 yards and a touchdown on just 15 carries.
Kentucky Game Ball
Will Levis
Threw two touchdowns, playing his heart out while dealing with injury. Yes, his late fumbles were costly but they would not have mattered if not for Levis in the first place
Game thoughts & Notes
List of things that stood out that you haven't mentioned before. At least 3 items. Maybe it's a stat you saw that's meaningful. Maybe it's a particularly spectacular play (if so, make sure you find a video and embed).
What it Means for Ole Miss
It means they are legit, and a real contender in the SEC West. Alabama may have lost Bryce Young for an extended period of time, which give the Rebels an opportunity to make a play. Can they do it?
What it Means for Kentucky
The margin for error was already zero, but now if they want to reach Atlanta they will not only need to beat Georgia but also run the table. Daunting task for the Wildcats.