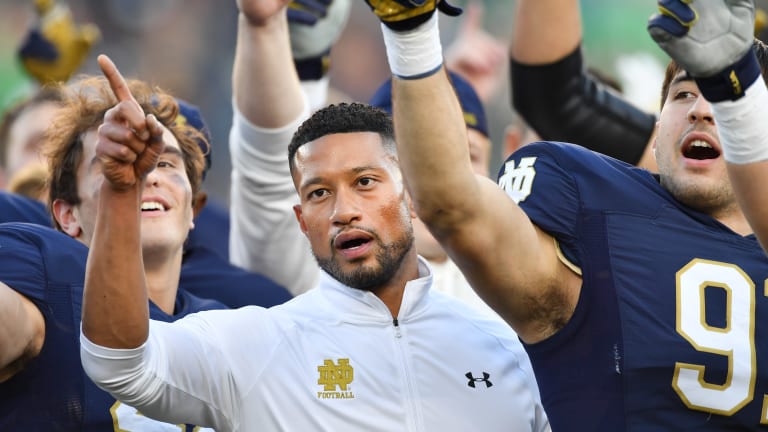 Is Freeman The Right Man For The Irish?
After a slow start, Notre Dame has won 5 of 6 heading into a big test vs. Clemson
When you get to the pinnacle of your profession, it can be a lonely place. A place where you learn most about yourself. 
For Notre Dame head coach Marcus Freeman it has been a literal "on-the-job" training experience to begin his head coaching career. His first two assignments after being named head coach after the sudden departure of Brian Kelly to LSU were an excellent Oklahoma State team in the Fiesta Bowl and a season opener in Columbus against Ohio State.
In the Fiesta Bowl, the Irish was able to start fast with a 28-14 first half lead. In the second half, Oklahoma State outscored Notre Dame 17-0 in the third quarter en route to a 37-35 win over the Irish. 
Freeman said after the loss, "They deserve a winning product. They deserve a team that every week goes out there and wins. It's our job to make sure that we prepare and we do everything necessary to give this team, the fan base, the university and everybody else that deserves a really, really good product out on that field. We'll get back to work."
His second draw was a visit to his alma mater Ohio State at The Horseshoe where Freeman was a two-time All-Big Ten linebacker. In the first half, Notre Dame slowed down an Ohio State offense that had averaged 45.7 points per game a season ago to seven first half points and had a slight lead at 10-7. 
The offense who finished the first half gaining only 29 yards on eight plays gave the ominous feeling that there was very little they would be able to contribute to keep Notre Dame in this game. That feeling came to fruition as the Irish gained only 72 yards in the second half. A fourth quarter touchdown by Ohio State's Miyan Williams to cap a 14 play 95 yard drive sealed it for Ohio State in a 21-10 win. 
Again, it is no sin to go to Ohio State and be in the game deep into the fourth quarter. 
Freeman looked to a home opener against Marshall to get off the schneid in the win column. Marshall possessed a good ground game and got impact from Florida State transfer Khalan Laborn in the game who had 163 yards rushing and a touchdown. 
The Thunder Herd capitalized on an opportunistic defense which forced three Irish turnovers. The backbreaker came in the fourth quarter, when Marshall defensive back Steven Gilmore returned an interception 37 yards for a touchdown in a stunning 26-21 upset for Marshall at Notre Dame Stadium. 
The loss snapped a 42 game winning streak for Notre Dame against unranked opponents. 
''I just told the team that we all have to look at ourselves, starting with the head coach on down and say, `Okay, what do I have to do? What do we have to do to fix the issues that we're having, and not just focus on the end result.' We have to look at the lack of executions in all phases of our team and where we can improve that,'' Freeman said following the loss. 
The Marshall game was not only costly in the loss column, but Notre Dame also lost starting quarterback Tyler Buchner for the season with a shoulder injury. The Irish have had to turn now to Drew Pyne to help bounce back. 
For Freeman he was 0-2 on the season and his 0-3 overall start to his Notre Dame coaching career was the worst since Lou Holtz started 1-4 in his first season in 1986. 
It looked to be more of the same in their contest against Cal, as the Irish looked like they had their hands full in the first half. But Freeman found a spark plug in sophomore tailback Audric Estime, who has become an integral part of the offense ever since.
Estime had a key touchdown early in the third quarter to put the Irish up 14-10, and Mackey Award finalist Michael Mayer got the deciding touchdown in the fourth quarter to give Freeman and the Irish the first win of the season. 
"It's hard to win football games," Freeman said. "It's hard. You've seen it in these first three games...I'm so proud of that group of guys to find a way to finish. Obviously, there's a lot of work to do. We have to get better, but tonight is going to be about celebrating this victory."
Estime was proving to be an impact player on offense, but he had a ball control problem having three lost fumbles in four games including a key fumble in a 16-14 loss to Stanford. Even with all that swirling around a key player, Freeman said to the media that no one lost faith in him. 
That faith was rewarded in Freeman's first signature win last week against No. 16 Syracuse at the JMA Wireless Dome. It was a showcase of the nation's top running backs in Estime and Syracuse's Sean Tucker. The Notre Dame defense slowed Tucker to only 60 yards and touchdown, while Estime rumbled to 123 yards and two touchdowns on the day, but for Estime it was this highlight stiff arm that left the nation in awe. 
This week Notre Dame has its biggest challenge at home this season hosting No. 4 Clemson. The last time Clemson visited Notre Dame Stadium it was in an empty stadium during the COVID pandemic in 2020 and the Irish won a 47-40 double overtime classic. 
For Freeman his optimism and perspective about the game after being slight home underdogs to Clemson rang out saying, "This is a heavyweight fight. We're a dang good football team. It's not David versus Goliath."
Notre Dame is one of college football "Goliaths," and Freeman is beginning to settle into his role as head coach. It was a bumpy start, but he has buy in from his team. Now, a team that could have folded following Marshall has belief they can beat Clemson. 
"This is going to be a physical game," Estime said, "we see veterans with a lot of experience so this is definitely going to be a challenge. That is what we are here for that's why came to Notre Dame to play for in big time games like this. I am looking at it like a golden opportunity." 
Regardless of outcome, Freeman is invested and all in and so his is team and he is the right man to guide the Irish. He has overcome early adversity in his career and never wavered, and his unwavering under pressure is why he needs to be looked at as the foundation and face of this program.