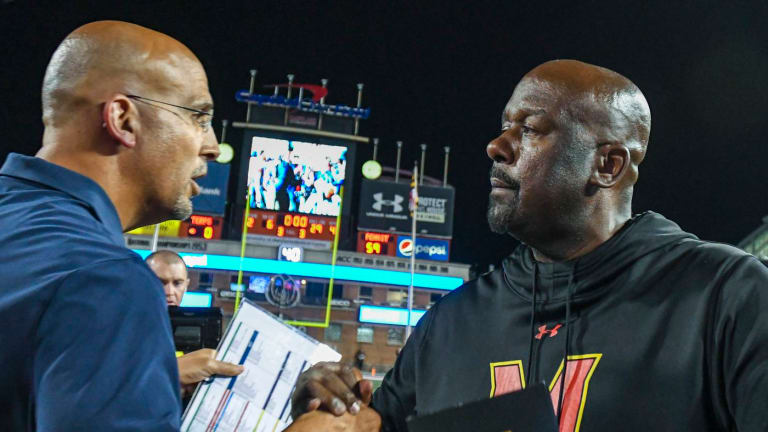 Is Penn State Closer to Being Maryland Than Ohio State?
Ahead of the matchup between the Nittany Lions and Terrapins, it's time to assess the state of Penn State
Sometimes I take the opportunity to read the opinions of various writers across the national college football landscape and I stumble across opinions from writers of all skill sets and some really get me thinking. Earlier this week, I read The Walker Report on Nittany Sports Now and he asked the same question that inspired me to write my own take because many fans of Penn State dismiss this as a possibility. 
Maryland? The basketball school? On par with Penn State in football? Preposterous! 
This is what would be screamed by Penn State fans who would quickly point to the 41-3-1 domination of Maryland historically. Most of those games happened while Penn State was not in the Big Ten and before Maryland joined full-time in 2014, the last time they had met was in 1993. When the "rivalry" reconvened in 2014, it didn't take long for the chippiness to commence when Maryland refused to shake hands prior to the game. 
In Maryland's first trip back to Beaver Stadium in two decades, they came away with a one-point win. Penn State would return the favor in College Park the next season defeating Maryland by a point. 
From 2016-2019, James Franklin had all the answers to beat Maryland. The Nittany Lions would defeat the Terrapins by a combined score of 201-20 in four games. During this period, Franklin guided the Nittany Lions to a 2016 Big Ten Championship and three New Year's Six bowl appearances in four seasons. The last time the Nittany Lions achieved that feat was between the 1980-1982 seasons under coach Joe Paterno. 
During the same period, Maryland looked to D.J. Durkin to get the Terrapins back to respectability. While Durkin was able to get the Terrapins to a bowl in 2016, his program regressed in 2017, and the 2018 season was shrouded by the death of Jordan McNair in spring practice and the suspension and eventual termination of Durkin. 
Meanwhile, Penn State was continuing its mass exodus of top Maryland talent back to Happy Valley on the recruiting front. The Terrapins sought someone who was familiar with the program, the area, and even James Franklin and got that person in former Alabama offensive coordinator Mike Locksley. 
Both Franklin and Locksley served on Ralph Friedgen's staff between 2000-2002. Franklin was a wide receiver's coach and Locksley was the recruiting coordinator and running backs coach. Franklin said this week of Locksley, "I've known Mike Locksley for a long time; we were on the same staff at the University of Maryland for a number of years," Franklin said. "He's done a really nice job of improving their roster and recruiting their players."
In his second season at Maryland, had his signature moment against the Nittany Lions. The Terrapins dominated Penn State in the 2020 matchup in all facets off the game, forcing three Nittany Lion turnovers. Quarterback Taulia Tagovailoa and wide receiver Rakim Jarrett connected on two long touchdowns of 42 and 62 yards in a 35-19 Maryland win. 
While Maryland has secured more wins against Penn State since 2014 than Penn State has over Ohio State, Mike Locksley said of Penn State week, "It's not a rivalry game, I told our team there's no such thing. This is not a rivalry game. Obviously, we have to compete a little better to get it to that point.
"We have some guys that were here, that were part of going up there and getting a big win (2020 game). That was something we haven't done a lot around here. But it's going to come down [to] us blocking, tackling, running, catching and throwing. Putting in the work."
Tagovailoa, who was an integral part of the 2020 win, is back for a junior season. He has helped reshape the Maryland program during his time in College Park. Blitzing Tagovailoa hasn't bode well for opposing defenses as Tagovailoa has been graded by PFF 90.3 against the blitz the second best amongst all quarterbacks in the country. Penn State defensive coordinator Manny Diaz is known to bring pressure, so he'll have to figure out early if they're able to keep blitzing. 
This is a huge game for both programs. A win by Penn State inches them closer to a New Year's Six bowl bid. Franklin asked about getting a statement win against a quality competitor since Auburn has faltered and the Big Ten West Division foes Minnesota and Purdue are 5-4, "There's value in it," Franklin said. "It's interesting that programs that have not been consistent but have big-time wins and programs that are consistent but don't have a signature win, and obviously, you want both. You want the consistency week in and week out, and it's hard to do, and having signature wins is also hard to do."
---
Since the 2020 season, Penn State is 18-13 overall and Maryland is 15-12 overall. The Nittany Lions are unable to play a complete game against Ohio State and beat them. Penn State is not in the same stratosphere as Ohio State. I also feel Michigan is now a few steps ahead of Penn State. Even in a down year, Michigan State is 5-3 versus Penn State under James Franklin, and Michigan State delivered a few shockers to Penn State even when they are horrible. I feel Michigan State is on the same level at minimum as Penn State and maybe even a step ahead. Franklin hasn't proven to be able to win the big games at Penn State, and that will keep Penn State from being amongst the elite of the Big Ten.
You look at what Maryland has done for its program, including a $150 million major reinvestment in upgrading the Jones-Hill House is beginning to attract recruits, and you can see the path forward. Outside of the Wisconsin hiccup last week, Maryland hasn't had those clunker games that usually define their season. Locksley has turned around that program with fewer of those games. It is only a matter of time before Maryland begins to clip one of the Big Ten East Top 4.
For Penn State, they truly are closer to Maryland in the Big Ten East than Ohio State or even the Michigan schools. The program has to look itself in the mirror and win these games, and while both schools may look at each other and downplay the rivalry, Franklin said it best and I can imagine Locksley saying the same thing, "Most importantly, we got to be 1-0 this week, or people will be complaining about that, too."
Both may blow it off as a rivalry, but lose this game you get that rivalry feel in reaction to losing, both want this game and need this game. I will call it a rivalry even if no one wants to.