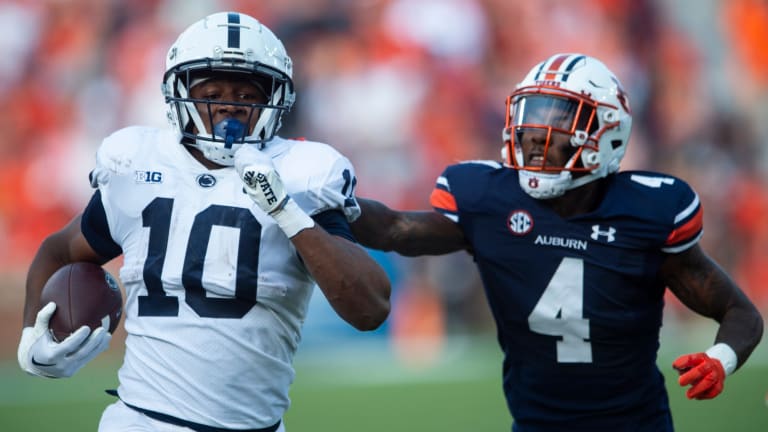 Is Penn State For Real?
The Nittany Lions are 3-0, is it time to buy into them?
In front of a national audience on CBS, Penn State had its first signature out-of-conference road game victory since a 51-6 victory at Pitt in 2018. Their thorough beatdown of Auburn on Saturday by a score of 41-12 in Jordan-Hare Stadium was their first in an SEC stadium since they beat Alabama in Bryant-Denny Stadium in 1990. 
The pollsters have reacted to Penn State's dominance by propelling the Nittany Lions to 14th in the rankings. 
So the question is it a time to buy into them? 
---
Three Reasons to Buy Into Penn State
1.) Running Game
What has sent the Nittany Lions into an 11-11 record the last two seasons has been a lack of a running game. 2020 saw the abrupt retirement of Journey Brown, who had a monster Cotton Bowl versus Memphis. Noah Cain never was the same in Happy Valley after his injury. Ricky Slade, who was the No. 1 all-purpose back in the Class of 2018 per 247, transferred to Old Dominion in 2020. Caziah Holmes, who was the No. 5 all-purpose back in the Class of 2020 per 247, is now at Florida State.  
Finally it seems, the Nittany Lions have hit a pair of home runs in freshmen Nicholas Singleton and Kaytron Allen, who contributed to a monster ground attack against Auburn. When you add in sophomore Keyvone Lee, who is providing very necessary production as a power back, and junior Devyn Ford providing leadership and filling in the gap, the Nittany Lions should be able to stay balanced on offense. 
2.) Secondary
Penn State entered the Auburn game leading the nation in passes defended with 25 and added three more last week. Joey Porter Jr. is demonstrating why the NFL Draft prognosticators have him as a high Day 1 draft choice. He's been one of the nation's top cornerbacks through the first quarter of the season. 
Across from Porter, former four-star Kalen King has taken a big leap forward as well, and he's starting to get some draft buzz of his own. Safety Ji'Ayir Brown was named to PFF's pre-season All Big Ten team, and the former JUCO standout has turned into one of the best all-around safeties in the country. The Nittany Lions have also gotten contributions early from Keaton Ellis, Johnny Dixon, and Daequan Hardy.
In a division that has arguably two of the nation's best wide receiving corps in Ohio State and Michigan State, Penn State can contend against these teams' aerial attacks.
3.) Defensive line
After three weeks, this is one of the most dynamic and active defensive line units Penn State has had since Sean Spencer's departure to the New York Giants in 2019. 
James Franklin clearly found a gem in the transfer portal in former four-star defense end Demeioun "Chop" Robinson. Robinson has been a force through three games, providing to be their most consistent pass rusher. With a healthy PJ Mustipher in the middle, and Adisa Isaac on the opposite end of Robinson, Penn State has a unit that will cause headaches with the opposing offensive line. 
With youth behind them in former five-star EDGE rusher Dani Dennis-Sutton and Zane Durant, the future is very bright on the Nittany Lions defensive line as well.
---
Three Reasons To Sell Penn State 
1.) Sean Clifford
While the sixth year senior has played much better and looks healthy, Clifford still has limitations. Notably, Clifford is notorious for under throwing his targets. Against Auburn, on a play that was ultimately negated by a penalty, Nicholas Singleton had broke free on the wheel route, and Clifford delivered the ball short. The Nittany Lions cannot afford for this to happen in the biggest games, however, as they'll need to convert every opportunity they have against a team like Ohio State.
Clifford is also a guy who at times lacks the proper touch on throws where if he makes the right throw, Penn State can get a chunk play. So while Penn State has one of the Big Ten's top receiving units in Mitchell Tinsley, Parker Washington, and KeAndre Lambert and an athletic tight end in Brenton Strange who can make a few plays, Clifford needs to play like he did against Purdue in the closing seconds, take his experience and trust that the intended receiver is where he needs to be. 
2.) Offensive Line
Penn State possesses athletes at key offensive positions to be able to play with anybody in the country. What has held the Nittany Lion offense back the last few years is the offensive line. So far this season, the offensive line has opened plenty of holes for their running game and has kept Clifford upright. But have they truly been tested?
As the Nittany Lions progress into Big Ten play and get tested by physical defensive units from Ohio State, Michigan, and Michigan State, we will find out how improved their offensive line is. 
3.) Poor Coaching Decisions
James Franklin tends to do things that Nittany Nation often scratches their collective heads about. While Franklin exudes confidence in his defense, the opening series against Auburn the fourth down play in your own territory could have significantly backfired there. The defense held the Tigers to a field goal, but you can easily see how that could have backfired in a disastrous way. 
When you play against Ohio State, you can ill afford these coaching blunders because the Buckeyes make you pay. This is why Penn State lost close games to the Buckeyes in 2017 and 2018. 
With a new defensive coordinator in Manny Diaz, having two third down situations that were 14 or more yards and the Tigers were able to convert due to calling a prevent defense and an all out blitz has to be tightened up. 
---
Conclusion
Right now I am not buying into Penn State being the No. 14 team in the country and feel it is premature to have any championship aspirations. I'll give the Nittany Lions credit for having two good early road wins. I feel Purdue will right itself and find a way to get to 8-4 and Auburn is always tough in Jordan-Hare, but I feel this is one of the worst Auburn teams and might be worse than Gene Chizik's swan song in 2012. 
Franklin is 5-10 since 2017 versus the big three of the Big Ten East Division of Ohio State, Michigan State, and Michigan. That consists of zero wins versus the Buckeyes, and a couple of head scratching losses to Michigan State. 
Penn State has to do more for me to buy into them, beating teams they should beat doesn't do it for me, beat Ohio State, Michigan, and Michigan State, then we can talk.