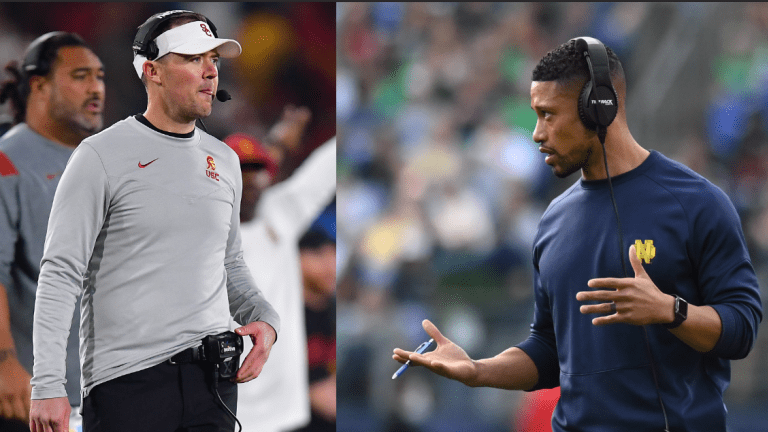 Lincoln Riley or Marcus Freeman - Who's the Better Hire?
As the next chapter of the fabled Southern Cal/Notre Dame rivalry takes place with first year coaches, who got it right?
For the third time since the storied rivalry began play in 1926, both Notre Dame and Southern Cal will both have coaches who are in their first year at the respective schools (1941: Sam Barry - USC/Frank Leahy - ND & 2010 Lane Kiffin - USC/Brian Kelly - ND). 
This year, the Trojans are challenging to reach the College Football Playoff for the first time, as they sit number six in the latest poll. On the other side of the field, Notre Dame is surging at the right time, and could potentially on their way to a New Year's Day bowl with a win.
Both head coaches, Lincoln Riley of Southern California and Marcus Freeman of Notre Dame, are young, energetic, and bringing new life into their programs. 
The big question is, who made the better hire? 
---
Recruiting
EDGE: FREEMAN 
As of this writing, Freeman has been the aggressor on the recruiting trail and it has been paying off for the Irish. 
It is easy to get discouraged by the decommitment of five-star EDGE rusher Keon Keeley, but the fact Freeman not only had Notre Dame in the conversation, but had Keeley believing in his program to commit to it is a great sign of the direction for the Irish. 
Freeman is going to have a bit of a fight on his hands in order to keep five-star safety Peyton Bowen down the stretch, as Oklahoma seems to be gaining some momentum for Bowen, so much that Rivals predicts a Sooners flip citing a very positive trip to Norman and a relationship with Sooners five-star quarterback Jackson Arnold. 
Even if the Irish lose Bowen to the Sooners, thought, there are still 20 four-star commitments to this class per 247. Of those 20, 13 are currently rated in the Top 20 at their respective positions. 
Southern Cal my have the No. 13 recruiting class, to me it feels like your normal Lincoln Riley group — very top heavy on the offense. Of the seven commitments who are ranked in the Top 20 nationally at their positions five primarily play offense. 
Riley continues his bread and butter by being one of the top quarterback coaches and recruiters in the country. Five-star Malachi Nelson may be the headliner of the Trojans' class, but what offensive juggernaut Riley is creating to support Nelson with five-star Zachariah Branch, who is the No. 1 rated wide receiver in this class, with athlete Makai Lemon, who should earn his fifth star, is the No. 2 athlete in the country per 247. 
Overall it is the balance of Freeman's recruiting class I favor, with or without Bowen. The former Buckeye linebacker is being aggressive and getting in favor with the top players at their positions I give him the edge early.
---
Transfer Portal
EDGE: RILEY
Very rarely does someone make Ole Miss head coach Lane Kiffin a man of few words. 
However, Riley's epic portal haul of Heisman frontrunner Caleb Williams, who looks reigning Biletnikoff Award winner Jordan Addison, former five-star receiver Mario Williams, Oregon star RB Travis Dye, and former five-star Alabama linebacker Shane Lee, who leads the Trojans in tackles, and other have been huge contributors to Southern Cal's transformation back to the top of the Pac-12. 
With such a haul, Kiffin abdicated his throne the only way he knows how through Twitter: 
The question moving forward now is how Riley will use the portal to his advantage? 

Gaining Williams was no surprise and not the first time he used a transfer in a big way, Jalen Hurts transferred from Alabama to Oklahoma for a year with Riley and now enjoys a successful career with the Philadelphia Eagles. 
Riley will be a lurker in the portal, and will constantly make Southern Cal attractive to transfer into because of the results he yields.
---
Offense
EDGE: RILEY
This is the biggest obstacle for Marcus Freeman in South Bend, how to get the offense to spark and go from sparking to elite. 
The spark he found is in a pair of sophomore running backs in Audric Estime and Logan Diggs who have combined to rush for over five yards per carry, 1,480 yards combined, and 13 total touchdowns, 
Michael Mayer, who is graded the top tight end in the country, has been the only reliable vertical weapon in Freeman's offense.
Oft-maligned offensive coordinator Tommy Rees has found a formula for success for a surging Irish team, but on Saturday he is going against the most potent offense his team has seen since Week 1 against Ohio State. They have to be ready to score and score often fi they're going to keep up with the Trojans. This will be a true litmus test for their offense considering how poor the Southern Cal defense is. 
For the Trojans, it is your prototypical high powered offense that has become the norm for Lincoln Riley's teams. USC is No. 2 in total offense, No. 4 in passing offense, and averaging 42.9 points per game good for No. 3 in the country, this is about as good as you can be nationally. 
As mentioned, Caleb Williams is a prohibitive Heisman favorite at this point, his work under pressure have been exceptional as he is pacing the country in touchdowns under duress.
With how Riley is recruiting offensively, I don't expect a drop-off anytime soon in the Trojans offense and feel it will transition well when they enter the Big Ten in 2024. 
---
Defense
EDGE: FREEMAN
How Alex Grinch remains a defensive coordinator for Lincoln Riley is remains a mystery to me. Here is how Grinch's defenses has performed in his four seasons with Lincoln Riley: 
| Year | Points Allowed | Rank | Total Defense | Rank | Passing Yards Allowed | Rank | Rushing Yards Allowed | Rank |
| --- | --- | --- | --- | --- | --- | --- | --- | --- |
| 2019 Oklahoma | 27.3 | 64 | 357.1 | 38 | 222.4 | 57 | 134.8 | 31 |
| 2020 Oklahoma | 21.7 | 29 | 350.8 | 29 | 245.5 | 83 | 105.3 | 9 |
| 2021 Oklahoma | 25.8 | 60 | 391.5 | 76 | 261.8 | 111 | 129.8 | 30 |
| 2022 Southern Cal | 26.3 | 68 | 405 | 94 | 257.8 | 106 | 147.2 | 66 |
While Grinch has a new lease on life as a defensive coordinator at Southern California, the metrics are not acceptable for a program and coach looking to win national championships. 
The Trojans' defense ranks 104th in points allowed per drive and 120th in yards per drive. Their 118th rank in success rate allowed overall and 123rd rank against the run won't bode well if the Trojans make the College Football Playoff against teams who are complete on both sides of the ball. 
This is why Riley teams come the postseason are winless and have been outscored 162-110. 
The Irish defense is in the Top 20 in pass and total defense and has allowed 20.3 points per game. 
Against a potent Ohio State offense that has averaged 46.5 points per game, the Irish gave up 21 that day, and for 90% of the game, the Buckeyes managed only two touchdowns. 
The Notre Dame pass defense which is among the best units of the nation will be put to a test, and freshman Benjamin Morrison looks like a future Day 1 NFL Draft choice. 
Out of all FBS cornerbacks who have played a minimum of 230 snaps in coverage, no one has a lower passer rating than Morrison with a 29.3 rating.
---
Riley or Freeman?
Let me preface this is still very early in both coaches' tenures at their schools and each has done a wonderful job this season. 
Freeman looked like a disaster early in his tenure, and when they plugged the right pieces into place and began executing, the Irish began winning. 

Freeman's schedule in his young career has included Oklahoma State in the Fiesta Bowl, Ohio State at The Horseshoe, winning at North Carolina who is in the ACC Championship Game, defeating Clemson at home, and then two wins against teams who were ranked when they played with BYU in Las Vegas, and at Syracuse. 
This was no walk in the park and infinitely harder than the favorable schedule afforded to the one Riley got onboarded with. 
However, it is hard to overlook the Marshall debacle. But to me, even worse was the loss to Stanford, who is on par or just slightly above Colorado as the worst team in the Pac-12. That Colorado team got boat raced by USC.
I give Freeman plenty of credit, and the gap between him and Riley is marginal. I give Riley the slightest of edges but he doesn't walk away unscathed here. 
He has to prove he can win the signature games at Southern Cal. He failed the first time against Utah at Rice-Eccles Stadium back in October and succeeded with his first win in the Battle of Los Angeles against UCLA. 
Beating Notre Dame defines your job at Southern Cal. While Riley was a combined 9-2 in Red River and Bedlam at Oklahoma, he was 1-3 against Power 5 out of conference or postseason games against teams that won 10 or more games. He was 6-3 against Big XII teams that won 10 or more games. 
While Freeman has an offense to work out, something Brian Kelly never fully got optimized in South Bend. Riley currently has a national championship-capable offense. But it is his defenses that are his Achilles heel. Even an average defense that wouldn't beat themselves complimenting Riley's elite offenses would win a national championship. 
No matter who wins on Saturday, the gap isn't significant between the two. Southern Cal has a bigger head start to recapturing a national championship than Notre Dame, both sides should feel good about their hires, but Riley because of his elite offenses and his use of the transfer portal is the slight winner here.