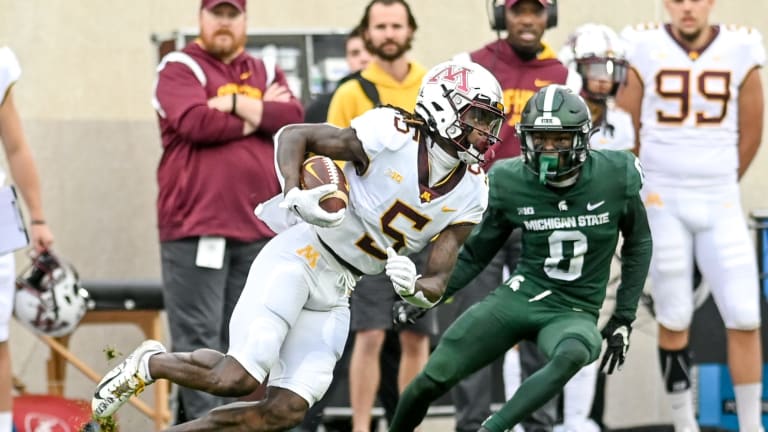 Minnesota Manhandles Michigan State 34-7
Golden Gophers show why they are the B1G West favorites with impressive road win.
Tuck still comin'? It isn't looking like it. A week after Michigan State became the first team in the B1G East to lose a game, the Spartans came home and looked completely outmatched against a Golden Gopher squad playing some great football on both sides of the ball. QB Tanner Morgan continues to thrive under returning offensive coordinator Kirk Ciarrocca throwing for 268 yards on an impressive 23-26 passing and three touchdowns. Former B1G Runningback of the Year, Mohammed Ibrahim, also had a great day rushing 22 times for 103 yards and one touchdown. Sparty had no answers; all say as QB Payton Thorne threw for a measly 132 yards on 17-24 passing and two interceptions, and a fumble.
Turning Point in the Game
Payton Thorne's fumble in the redzone on MSU's first drive of the second half has to be the turning point here. Already down 17-0 and doing absolutely nothing in the first half, Sparty had a great drive going to start the second half and was incredibly close to making this a 10-point game. Unfortunately for MSU, Thorne fumbled the ball and essentially fumbled any chance they had to come back away in the process.
Minnesota Game Ball: Tanner Morgan
What an absolutely incredible game by Tanner Morgan in this one. Morgan has his way with a bad MSU defense, completing 88.5% of his passes, and his top WR, Chris Autman-Bell, is out for the season. It's clear the past couple of years, Minnesota missed OC Kirk Ciarrocca, and his return has revitalized this Minnesota offense. 
Michigan State Game Ball: No One
There isn't a single player or coach who deserves a game ball on this one. Thorne played bad, with zero running game to speak of, the defense got smoked, etc. No one stood out as a positive.
Game Thoughts & Notes
Minnesota was my preseason pick to win the West, and they are looking likely to do so. The offense is clicking; the defense was ranked 2nd in the country coming into today. The Golden Gophers are a bunch to take seriously.
Michigan State should have addressed their bad defense in the offseason and clearly didn't, especially that secondary. Came into the day 104th in passing yards allowed and looked even worse today. 
Michigan State's offense clearly misses Kenneth Walker III. They need an answer of some sort at RB, or things will get worse.
What This Means for Minnesota
Still the only undefeated team in the West and clearly the best by far. At Penn State looms ahead in what will be the annual "White Out Game" for the Nittany Lions. Minnesota passes that test, and they could be undefeated and going to Indianapolis by the end of the regular season.
What This Means for Michigan State
Currently the worst team in the East record-wise, it doesn't get easier. An improved Maryland team is next week, followed by Ohio State, Wisconsin, and Michigan. Sparty has to find answers quickly, or they may struggle to reach 6-6.