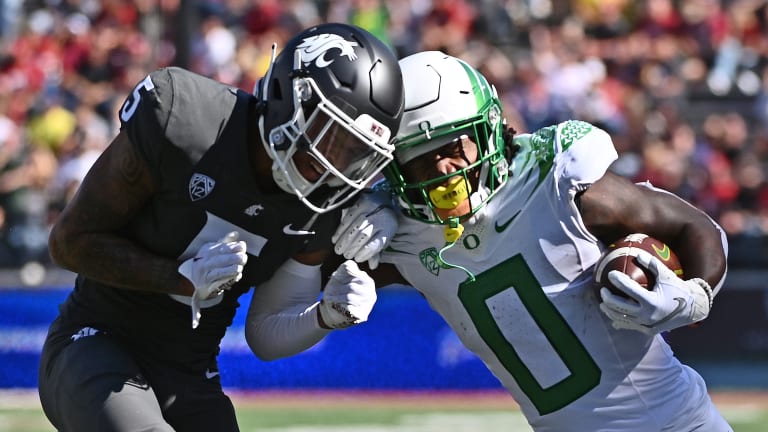 Oregon Comes back to beat Washington State 44-41 in Thriller
Oregon uses big fourth quarter to shock Cougs in Pullman!
Oregon found themselves behind the entire game not taking the lead until 1:29 left in the ball game. Oregon entered the fourth quarter trailing Washington State 27-15, but managed to turn in 29 points in the final stanza. 
It took an incredible effort, over 600 yards of offense, and a pick-six in the closing moments of the football game to 
Turning Point in the Game
Bo Nix finds Troy Franklin for a 50-yard TD pass on 3rd and 1, with under 1:30 to go in the game. The Ducks took the lead for the first time on the play, then scored the subsequent two-point try.
Oregon Game Ball
Oregon run defense
Washington State's rushing offense was 53 yards, on 25 carries for only 2.1 yards per carry. In other words, they couldn't run the football at all. This means they couldn't close the game, and Oregon capitalized.
Washington State Game Ball
Cameron Ward
37/48 for 374 yards 2 passing Td, 1 rushing TD. 
Also had two interceptions which is a rarity for someone with a game ball, but the Incarnate Ward transfer was everything for the Cougars, and it showed in their rushing stats.
Game thoughts & Notes
The game truly is not over until it's over. This was one of the craziest games of the season. The Ducks kept plugging away in that fourth quarter. 
Washington State needs to figure out how to run the football. Washington State had two interceptions and a three and out in the fourth quarter. They were unable to sustain drives to put the game on ice, and ultimately that cost them dearly. 
What it Means for Oregon
Oregon's toughest games in Pac-12 play are home games. This was one of the more difficult road games on the schedule for Oregon. So this win is a big one, in the Duck's quest to get back to the Pac-12 Championship game. 
What it Means for Washington State
This is the kind of game that can be debilitating for a team. You have the game won, but find a way to lose, and get owned physically because you couldn't run the ball. Washington State will need to dig deep and find out its identity moving forward.