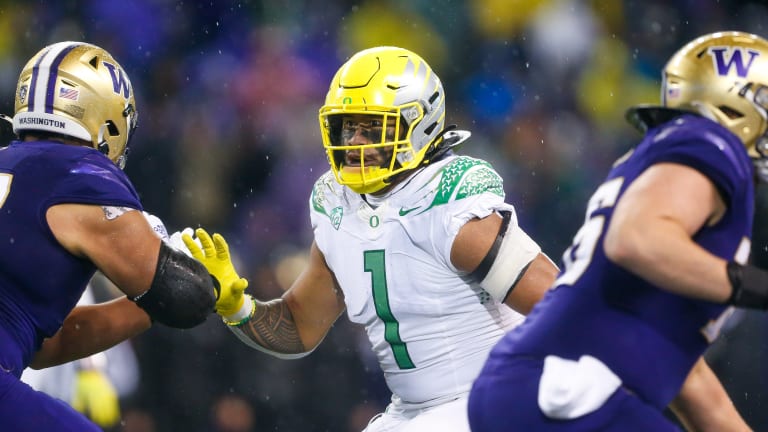 Oregon vs. Washington: The Pacific Northwest's Finest Clash
First Year Coaches and Transfer Quarterbacks Highlight Oregon/Washington Matchup
When you think of the best and most ferocious fever pitched rivalry games in the nation, one of the most overlooked is the rivalry between Oregon and Washington. Separated by less than 300 miles on Interstate 5, the regional rivals meet for the 114th time on Saturday in Autzen Stadium. 
The encounter on Saturday will feature the debuts for head coaches Dan Lanning and Kalen DeBoer in this matchup, as well as their starting quarterbacks in Heisman hopeful Bo Nix for Oregon and Michael Penix Jr. for Washington. Lanning enters his first Husky Hate Week as Oregon's head coach acutely aware of the rivalry's intensity,  "No love lost. That's really clear," Lanning said on Monday night when he was asked what he knew of the Pacific Northwest rivalry. "There is no love lost in this game. And that's something that's exciting. It makes games like this fun."
No love lost for Washington is what fuels Oregon and its electric crowd. Every Saturday in Autzen Stadium to get the crowd pumped, they play "The Pick" by Kenny Wheaton in the 1994 matchup. That was a turning point game for the Ducks, as it marked their ascension into the upper echelon of the sport, resulting in a Rose Bowl berth that season and continued success over through the present day.
That game also signaled decline of Washington who has never truly found a true successor for the Dawg Father himself Don James, though coaches like Rick Neuheisel and Chris Petersen have come close. 
 "I don't know if there's a speaking engagement I've went to where they haven't emphasized how important it is to beat the Ducks. It's certainly important. It's going to be fun, because we've put ourselves in a spot where it means something. They've got themselves in a spot where it means something. You've got the rivalry on top of it, and it looks like it's going to be a great week weather-wise come Saturday. So it'll be a fun weekend," said DeBoer of the priority of beating Oregon for his program.
Beating Oregon used to be almost an annual tradition for Washington. Don James was victorious in 15 out of 18 matchups. Prior to The Pick, Washington had won or tied 59 of the first 87 meetings. However, since that game in 1994, the Ducks have taken 20 of 26 games, including a run of 12 straight from 2004-2015, known between the programs as 'The Streak.'
---
Oregon quarterback Bo Nix is not only in a race toget a resurgent Oregon program back to the College Football Playoff for the time since 2014. That 2014 team was led by Heisman winner Marcus Mariota. And at the moment, Nix is in the thick of the race for that distinct honor too.
In Mariota's 2014 season, he completed 68.3% of his passes, had 5,154 total yards and 57 total touchdowns. This season Nix is just under 3,000 total yards, completing 73.3% of his passes, with 35 total touchdowns through 9 games. Since Week 2 of the college football season, Nix has received a 91.2 PFF grade, good for second highest in the country. During that same timespan, he has the country's best rating under pressure as well.
So while this particular rivalry isn't well known to Nix, he said this week he is letting the game come natural to him and allowing teammates to tell stories about the rivalry. 
One of the sour moments for Oregon came in the 2016 game, when Washington Huskies quarterback Jake Browning on his way to the end zone simply pointed to Oregon linebacker Jimmie Swain. The moment went viral but didn't go unnoticed by head coach Chris Petersen who issued a 500 push-up punishment for Browning for his unsportsmanlike action. 
Washington that year broke the aforementioned 12 game losing sstreak, and was the first time an opposing team scored 70 in Autzen Stadium. That season, the Huskies made it to the college football playoff - something no other Pac-12 team has done since.
---
Offensively, this Oregon team is as explosive as any team in the country. Last week against Colorado, they had a touchdown catch by an O-lineman, touchdown catch by a quarterback, and a touchdown run by a defensive player, the first team ever to accomplish all of these in one game. 
Nix said this week, "I think our offense is one of the best in the country. I think when you look at what we're doing offensively, everybody touches the ball... I mean we're so dynamic and guys are doing so many different things. You can't really just say it's me because you've got guys running touchdowns, you've got guys catching touchdowns. I literally think my job is kind of the easiest because I get to get those guys the ball and they do the work for me. I'm fortunate to be on an explosive offense like this."
For Washington, quarterback Michael Penix Jr. has seemed to rekindle his 2020 level of play and has guided the Huskies to a 7-2 record. 
Penix realizes there is a lot on the line this week against Oregon, "We just want to win. That's the main thing for us. For us, we don't have any pressure. I feel like going into the game, we know it's a big game, we know they're a really good team, but at the same time it's the game of football. It's a rivalry game, it's a big game, we're definitely going to take that into account, but at the same time we just have to go out there and play our game and things will fall into place."
The Indiana transfer has been just as explosive as his Oregon counterpart, completing over 66% of his passes for 3,232 yards and 25 total touchdowns. One of Penix's top targets has been sophomore wide receiver Jalen McMillan who has been explosive from the slot. He leads the nation from that position in receptions for a first down, and receptions gaining 15 or more yards.
While the Oregon and Washington rivalry doesn't have the same cache nationally as The Game, The Iron Bowl, Red River,m or other premier rivalries, it is chock full of signature moments. Whether it was the 1948 vote where Washington took Cal over Oregon to go to the Rose Bowl, a 1951 rout that led to a contentious beef between Hugh McElhenny (Washington) and Len Casanova (Oregon), The Collision between Mel Renfro and Charlie Browning, The Dueling Routs, The Pick, The Streak, or The Point it is filled with memories to talk about and what new memories will be created Saturday.
"I think that's going to be a picture (of Browning) that's going to be around forever in terms of this Oregon-UW battle,'' former Washington defensive back Kevin King said. "They talk about The Pick? Nah, they're gonna talk about the finger wag."
A lot is on the line Saturday ranging from Heisman chances to a College Football Playoff berth. But most importantly, bragging rights for another year.