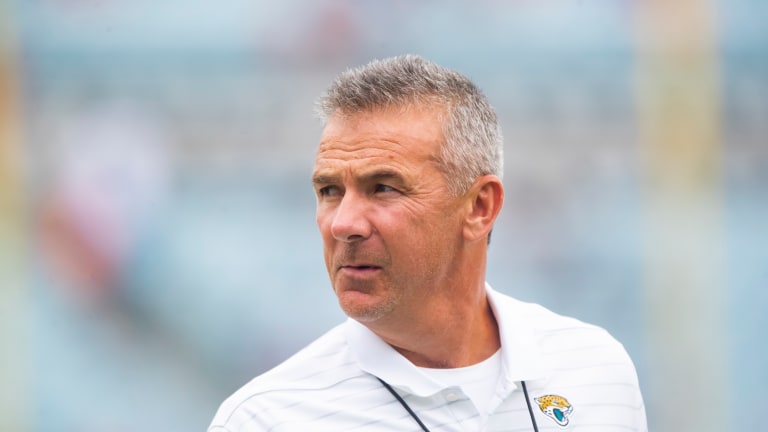 Possible Destinations for Urban Meyer
Following an embarrassing stint with the Jacksonville Jaguars, Urban Meyer has returned to the broadcasting booth to again rehabilitate his image. After a season of good behavior, it is rumored the former Buckeyes coach may again be open to work again on LinkedIn. In this article, we will take a look at five schools that may be potential landing spots for Meyer in the coming season. 
---
1. Auburn
Auburn seems like the most likely choice at the moment. Bryan Harsin is on the hot seat, and things need to change drastically for the Tigers if Harsin is going to keep his job. Auburn is a good fit for Urban. A big team that is currently struggling in the SEC. He could come in and completely turn that program around. He has SEC experience and could recruit very well there. It will be interesting to see if Auburn goes after him if, and maybe when, Bryan Harsin is fired. 
---
2. Texas
If Steve Sarkisian doesn't work out in Austin, Urban Meyer might be the Longhorn's first call. Texas believes that they are still an elite program and should be able to compete with anybody, and Meyer could make that a reality again. Texas is a big enough program for Urban Meyer to seriously consider the job. And I believe that is more of a possibility with their move to the SEC. It is still too early to tell if Sark will work out there, but if not, Meyer could be the new head coach of the Texas Longhorns.  
---
3. Texas A&M 
We are heading east in the Lonestar state to College Station, Texas. Texas A&M has Jimbo Fisher, but he has been underachieving since he has been there. He has been there since 2018, and besides their 9-1 Covid year, they have lost at least four games every season. That is unacceptable with the talent and yearly expectations the Aggies have. Urban Meyer would take A&M to the next level. I believe he could do things that Fisher has not been able to. Them being in the SEC also helps their chances of landing Meyer. It will be interesting to see what happens out there in Texas.  
---
4. Florida 
A Florida reunion could be something to watch for if Billy Napier does not work out in Gainesville. That might not be something that Florida wants, considering all the off-the-field stuff that happened while he was there. But they could overlook that to get back to the on-field success they had while Meyer was at the helm. He won two national championships with the Gators in 2006 and 2008. If they can look past the off-field stuff, which I don't think they should, Urban Meyer could very well end back up in the Swamp. 
---
5. USC 
It is a long shot, but Lincoln Riley may be considered leaving for an NFL job in the future. If that happens, USC and Urban Meyer would be a great match. Meyer would thrive recruiting in SoCal and could turn USC back into a west coast powerhouse. They haven't been like that since around 2006. I'm not sure if Urban wants to come back and coach college ball, but if he does, I could see him heading to Los Angeles.