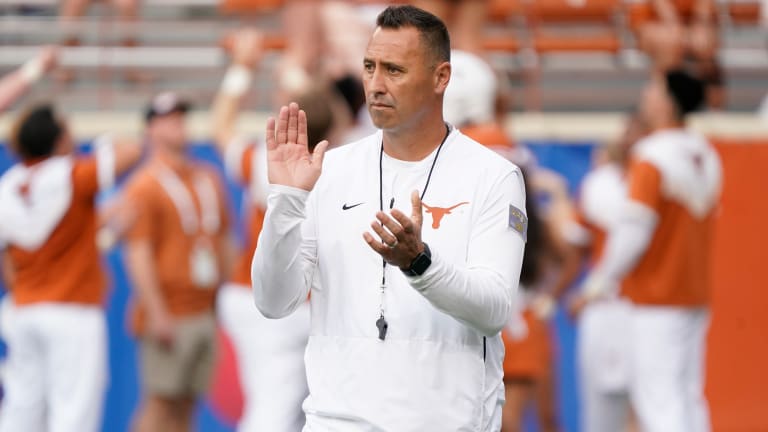 Profile: Steve Sarkisian
Longhorns Head Coach Has Experienced the Highest Peaks and Lowest Valleys in Career
Perspective. 
When you have gone through championship experiences, endure the lowest of lows with the challenge of substance abuse, and then demonstrate the perseverance necessary to be trusted to lead again, you develop excellent outlooks and perspectives about challenges because of the roads you have traveled. 
Texas Longhorns head coach Steve Sarkisian has excellent perspective on his upcoming matchup against No. 1 ranked Alabama Crimson Tide; 

"It's one game, you know?" Sarkisian said Monday. "It's a chance for us to do what we love to do. I think one of the biggest mistakes people make is [thinking] this is going to be the game that's going to define our program."
Sarkisian reiterated that the Longhorns goal for the 2022 season is to get to Dallas and play in the Big XII Championship Game, 
"All along, my goal is to be in Dallas on December 3," he said. "This game has no impact on that. ... I want to play really well. I want to make sure that our guys play our style of football, our brand of football and do it the way I know we're capable of doing it."
In Sarkisian's four decades being around college football he has worked with, been mentored by, and interacted with some of college football's legendary coaches and that molding has paid off for Sarkisian. 
---
As a player, Sarkisian began his career at Southern Cal in baseball. He started as a shortstop for the Trojans baseball team as a non-scholarship player. 
Sarkisian encountered his first struggles as an athlete making the transition from high school prep excellence to Division I baseball and decided to attend El Camino College in his hometown of Torrance, California. It was the setting Sarkisian needed to reboot his career and he returned to football, where he began to make waves as a player. 
In 1994, Sarkisian set at the time the national record for completion percentage at the junior college level at 72.4%, at the urging of his coach and mentor John Featherstone that he should continue his football pursuits. 
Sarkisian was recruited by Washington State, who just sent Drew Bledsoe who was a No. 1 to the NFL, Kansas State who was in the middle of a transformation with Bill Snyder, and BYU who the quarterback factory under LaVell Edwards and Norm Chow. 
Sarkisian said of his recruitment and becoming a Cougar, "I just wanted to get into an environment where football was important and education was important because I had two years to get two things done. I wasn't there to have a good time or have the college experience. I was there to win games and get a degree."
His high in Provo was his senior season in 1996, where he guided the Cougars to a 14-1 season that included a major upset of Texas A&M in the Pigskin Classic to open the season and was capped by a Cotton Bowl victory over Kansas State. 
Sarkisian would be awarded the Sammy Baugh Trophy for being the nation's top quarterback. 
---
After stints in the Canadian Football League with the Saskatchewan Rough Riders, Sarkisian returned home to embark on a year in coaching at his junior college alma mater El Camino with his mentor John Featherstone. It was Featherstone, who almost a decade prior convinced Sarkisian to come and play football, who convinced Sarkisian he could coach. 
After a year with El Camino, Pete Carroll had arrived at Southern Cal a year prior and was looking to rebuild a fallen empire at Troy. Carroll decided to employ former BYU offensive coordinator Norm Chow, who spent the 2000 season at NC State, as offensive coordinator. 
With Sarkisian being local and having just got into coaching with an understanding of Chow's offense, this was a natural fit. He got the opportunity to mold an up and coming quarterback named Carson Palmer. 
Palmer would go from a 54% passer and throwing more interceptions than touchdowns to a quarterback that would complete 63% of his passes and have a touchdown to interception ratio of 3:1. The 2002 Heisman Trophy marked the beginning of the rebirth of the Trojans. 
This success caught the attention of the NFL and Sarkisian took a job as a quarterbacks coach for the Oakland Raiders during the 2004 season. Sarkisian learned a lot from then Raiders coach and offensive mastermind Norv Turner. 
Sarkisian returned to Southern Cal for the 2005 season where he was quarterbacks coach with the additional title of assistant head coach to his duties. He would go on to work closely with new offensive coordinator Lane Kiffin, who replaced Norm Chow who went to the Tennessee Titans of the NFL. 
The desire for Sarkisian to become a head coach was beginning to form. He toiled with the idea and interviewed with the Oakland Raiders before withdrawing from consideration. 
---
Sarkisian became Washington Huskies head coach in 2009. The Huskies were a winless program in 2008 under former Stanford and Notre Dame head coach Tyrone Willingham. 
The expectations of Husky fans was minimal and hope that Sarkisian could turn their program around. In his first season however, Sarkisian gave a reason for hope when his Huskies upset No. 3 Southern Cal 16-13 in Seattle when in the previous season the Trojans demolished the Huskies 56-0. 
Sarkisian and the Huskies experienced a downturn that season, but was able to rebound at season's end with winning the Apple Cup against Washington State and finish 5-7. During this period, he became acquainted with Husky legend Don James. 
On occasion James would stop by and speak to Sarkisian and the team. Sarkisian said of James, 
After his first season at Washington, his former mentor Pete Carroll left the Trojans for the Seattle Seahawks of the NFL, it became the first of many flirtations to lure Sarkisian back to Southern Cal. With the Trojans seemingly a distraction, it thwarted progress for the Huskies where it seemed all Sarkisian could do is beat the Trojans and win seven games and earning the reluctant nickname from Husky fans as "Seven Win Steve." 
---
With the NCAA sanctions ending for the Trojans, and a head coach vacancy open, and after many courtships Sarkisian felt the time was right to return home to Southern Cal. The hire was seen as a home run by the Trojan base and alumni. 
Former Heisman Trophy winner Matt Leinart, who was coached by Sarkisian his sophomore and senior seasons called the hire a home run. 
Beneath the surface of Sarkisian, he was dealing with his inner demons of substance abuse. His tenure at Southern Cal started rocky with the John Shaw saga about how he injured an ankle. Shaw stated he jumped from a balcony to saw his drowning nephew but when investigating the authenticity of the story found out the story wasn't true, Sarkisian immediately suspended Shaw. 
The Trojans went 9-4 in his first season as head coach with a Holiday Bowl win against Nebraska. Expectations were beginning to increase for Sarkisian and the Trojans for the 2015 season. 
As the 2015 season was getting underway, the rumblings started to become public that Sarkisian started to lose his ability to control his alcoholism. Several Trojan players would report that Sarkisian had alcohol on his breathe, his behavior started to become erratic as he began to miss meetings and practices. Trojan assistant coaches reported that Sarkisian came to a coach's meeting intoxicated and was urged to leave. 
Then, on October 11, 2015, Southern Cal AD Pat Haden had issued to Sarkisian that he take an indefinite leave. As more and more information came to Haden, the decision was out of his hands and the next day, the Trojans terminated Sarkisian. 
The fallout of Sarkisian was even worse when it was found out that Haden did not do any public background check on Sarkisian and learned later that this erratic behavior and substance abuse was going on at Washington.
---
When you reach the lowest of valleys in your life, you begin to find out who you are really are and who your closest allies are.
Sarkisian was at a professional and personal low, he had lost the trust of being a leader as he betrayed a staff of men supporting his team and young adults who looked for guidance from Sarkisian. Lane Kiffin, who in 2016 was Alabama's high profile offensive coordinator and quarterbacks coach, knew Sarkisian was more than capable of rebounding as a man, leader, and coach. 
What influence he had on bringing in a disgraced Sarkisian to Alabama and being mentored by Nick Saban we all can surmise, but Kiffin has always been a strong supporter of Sarkisian. When Sarkisian landed the job in Texas, Kiffin said, "I love his story. I hope it's an inspiration to others when things happen, challenges. He won on the national stage and what a great comeback story. I talk to him weekly, probably. And it's just awesome to see, see him so healthy, see him overcome that and I'm just really proud of him."
Nick Saban has been the rehabilitation clinic for coaches, he seemingly instills his core values to every man who walks through his program but reinforces the core values every man possesses walking into his program. After Kiffin's departure to become Florida Atlantic head coach, Sarkisian would fill in temporarily as offensive coordinator in the National Championship game against Clemson where the Tide fell short. 
Sarkisian would take another stab at the NFL with the Atlanta Falcons and after two seasons he was terminated for not being able to get the Falcons back to their Super Bowl form offense of the 2016 season. Upon his dismissal, he returned to Alabama to become offensive coordinator in 2019. 
During the 2020 COVID season, Sarkisian coordinated a potent Alabama offense with quarterback Mac Jones, running back Najee Harris, and Heisman Trophy wide receiver DeVonta Smith and win the national championship that season outscoring opponents 630 to 252, averaging 48.5 points per game, en route to Sarkisian being recognized as the nation's top assistant coach winning the Broyles Award. 
Sarkisian spoke to Dennis Dodd of CBS about who Nick Saban is, "I got to know [Saban] beyond the straw hat, beyond the polo on the sidelines, beyond the press conferences," Sarkisian said. "He's an amazing man. He's probably one of the more compassionate human beings I've ever been associated with. That's not something most people describe him as."
---
Ever since Texas let go Mack Brown, they have been trying to come back and be the national power they were. There is no guarantee that Steve Sarkisian will be the man to restore the Longhorns among the nation's elite. 
Saturday against Alabama, the nation will get a glimpse of his new project in process. 
Texas usually has Texas-sized problems and maybe the man they need to resurrect and fix their program is a man who has traveled and persevered Texas-sized problems himself.