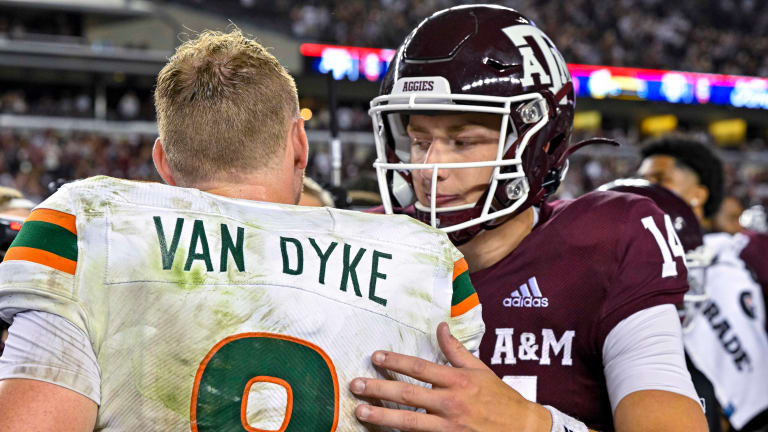 Rapid Reaction: A&M Holds off Miami
Texas A&M holds off Miami in game featuring two teams that appear to be well over-ranked
Whew, this game was a doozie, and when I say doosie, I do NOT mean a barn burner, a thriller, a classic, or any word that would describe entertainment. That was a tough watch and had to be even more painful if you were a Texas A&M or Miami fan. This was a battle between two teams that got a lot of attention and got rated far higher than they had earned, but one of them HAD to win, and I suppose with the home field advantage, that was just enough for the Aggies to squeak out a 17-9 victory. Jimbo Fisher turned to back up QB Max Johnson who transferred to A&M from LSU. 
Mario Cristobal is overthinking things.
The Hurricanes outgained Texas A&M by more than 100 yards; they held Max Johnson to 50% and 140 yards passing. Texas A&M had under four yards rushing per attempt, yet Miami lost the football game despite allowing just 17 points. To make matters worse both of the 'Cane's top runners were averaging more than 5.3 yards per carry themselves, more than Tyler Van Dyke averaged through the air on 41 pass attempts. Miami controlled the line of scrimmage, they had the better players, but they couldn't put it all together to win the game, and there is no one more to blame than head coach Mario Cristobal. 
---
Mistakes are the big difference
Miami muffed a punt leading to a touchdown for Texas A&M, they missed two field goal opportunities, fumbled the ball late, and dropped the would-be 4th down conversion in the waning moments. All around, the finger for the Miami problems seemed to point right back to themselves. A&M did generate a few pressures but, as a whole, could not get in the backfield. The Aggies had just three TFLs and did not record a single sack. Miami, on the other hand, took down Max Johnson three times and had six tackles for loss. On the other hand, while A&M could not do much with the football on offense, they did take care of the football and committed only five penalties. A&M out-disciplined Miami.
---
Big changes are needed for both teams.
Neither of these teams will be successful in conference play doing what they did today. Both sides will need to take a good hard look in the mirror and go back to the drawing board. Number one classes do not mean anything if you can't put your talent in a position to win, and Miami has squandered more Florida talent than anyone could imagine. Both coaches will need to do some evaluating to figure out what their team is good at and do that. Jimbo might want to learn an offense that predates 2013, and Miami will need to figure out how to be more balanced on offense.