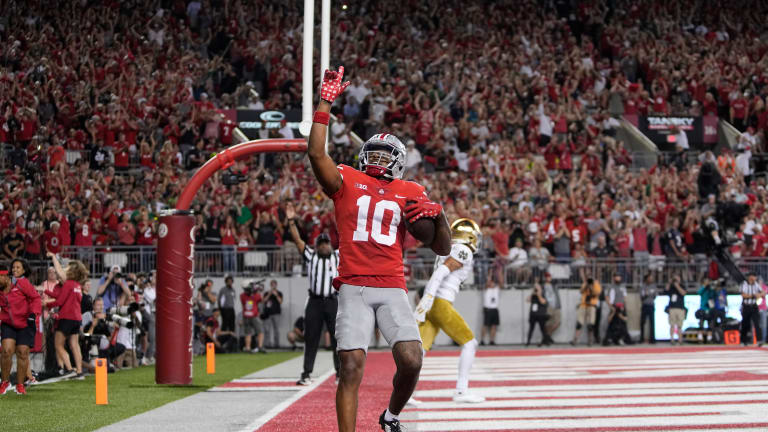 Rapid Reaction: Ohio State vs. Notre Dame
Revamped Buckeye Defense Stifles Irish Down in Second Half
Early reviews on new defensive coordinator Jim Knowles have to be overwhelmingly positive after No. 2 Ohio State's defeat of No. 5 Notre Dame 21-10 Saturday night in Columbus.
After early hiccups where Notre Dame had big splash plays from wide receiver Lorenzo Styles who had a 54 yard reception on the Irish's opening drive to give Notre Dame a 3-0 lead and a 10 play 87 yard drive that wrapped the end of the first quarter and start of the second quarter to give Notre Dame a 10-7 lead, Knowles defense yielded only five first downs and forced the Irish to punt on its final six drives. 
Knowles defense was so suffocating that Notre Dame offense only ran 17 total plays in the second half, in comparison the Ohio State offense ran 40 plays in the second half. 
---
Turning Point of the Game
After Notre Dame running back Audric Estime scored from the one yard line to cap a 10 play 87 yard drive at 11:56 of the second quarter, the defensive adjustments Knowles made became very apparent. 
Notre Dame gained 166 total yards of offense in nearly 20 minutes of football. The Buckeye defense would yield only 87 yards of total offense the rest of the game. 
Notre Dame quarterback Tyler Buchner started the game 8 for 8 for 128 yards, he finished after this point 2 for 10 for 49 yards. 
While the Buckeyes wouldn't take the lead until Xavier Johnson's 24 yard touchdown reception from quarterback C.J. Stroud with 17 seconds left in the third quarter, it was only a matter of when the Buckeye offense would figure it out and get the lead. 
---
Ohio State Game Ball 
Tommy Eichenberg & Michael Hall Jr. 
In my preview of this game, I was hard on two key fronts of the Ohio State defense; linebacker unit and that elite pass rusher that will cause problems, especially for an offensive line as experienced as Notre Dame's. 
Both Hall and Eichenberg answered the bell for the Buckeyes. Eichenberg who plays linebacker finished the evening with 9 tackles (6 solo), 3 tackles for loss, and 2 sacks. 
Eichenberg's sacks came at key times for the Buckeye defense, in the first quarter after Notre Dame quarterback Tyler Buchner had completed back to back passes to tight end Michael Mayer to set up a third and short, Eichenberg got to Buchner to force a fourth down. 
His second sack came in the third quarter, and after Mayer got a 17 yard completion and recovered his own fumble, it was the Irish's longest play since Buchner's 12 yard run midway through the second quarter, Eichenberg thwarted any momentum offensively for the Irish by sacking Buchner. 
Hall had a very disruptive game for the defensive line, he finished the evening with 4 tackles (3 solo), 2 tackles for loss, and a sack. His sack came on the Irish's final play on offense where Hall treated the Irish lineman like a turnstile and sacked Buchner for an 11 yard loss with 4:33 to go in the game. 
Notre Dame Game Ball 
Team Defense
It is hard to justify anyone offensively for the Irish to get the game ball, and for a defense that read all week from national talking heads like Paul Finebaum that the Irish aren't a Top 5 team and the oddsmakers had Ohio State as 17 point favorites, to have this be a one possession game deep into the fourth quarter speaks volumes at how well that unit played. 
With the lack of offensive support after going up 10-7 early in the second quarter, when they finally failed, they held on to keep the game close for nearly 50+ minutes, you cannot fault the effort of this unit.
---
Game Thoughts
Even with Smith-Nijigba's injury and Fleming who was out with an injury, Ohio State still had Xavier Johnson, Marvin Harrison Jr., and Emeka Egbuka and that is still better than anything the Irish has at wide receiver and quite frankly those three themselves would still be a top unit in the country.
Buckeye fans who had questions about the defense last year should be satisfied with initial returns, while fans who start to question or begin to have concerns about the offense need to stop. 
This is an elite offense and they will have their games where they get their stats up. The Notre Dame defense is an elite one, they gave up 19.7 points per game a season ago, last night 21 points. 

A season ago they gave up 359 yards per game, last night 395 yards. If I had to question Day's offensive philosophy at all, it would be it seems he gets overly aggressive with the pass and abandons the run. 
In the first half against the Irish, the play calling for the Buckeyes was pass nearly 2 to 1 ratio (17 pass plays to 9 rush plays).  Buckeye running backs TreVeyon Henderson and Miyan Williams combined for 175 yards rushing on 29 carries, 20 carries in the second half. I am not proposing Day implement Woody Hayes "three yards and a cloud of dust" philosophy, but some balance would help for sure. 
Notre Dame's much maligned offensive coordinator Tommy Rees is again under the microscope with Irish fans. After Knowles made adjustments after an explosive first quarter for the Irish offense, Rees had no counter for the adjustments. 
If you would have gone to anybody around the Notre Dame program last week and say, the Notre Dame offense would have played turnover free and the defense would have only yielded 14 points midway through the fourth quarter, I am willing to bet everyone there would say they would win the game. 
The offensive ineptitude has to fall on someone's shoulder and the lack of adjustments led to Notre Dame blowing a defensive gem and having yet another Top 5 loss to their recent resume.
---
Up Next
Ohio State - Sept. 10 vs. Arkansas State
Notre Dame - Sept. 10 vs. Marshall