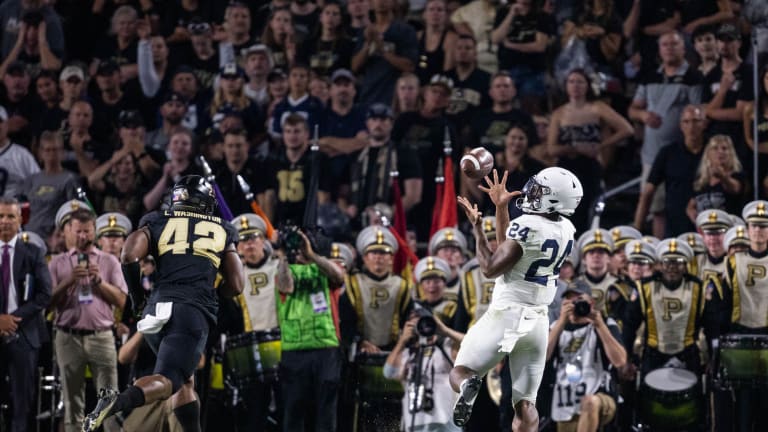 Rapid Reaction - Penn State vs. Purdue
Sean Clifford's late game heroics spoils opener for the Boilermakers
Penn State fans over the past six seasons have become very familiar with what they would get out of quarterback Sean Clifford. 
No one questions Clifford's heart, he seems to overcome adversity and he did it again Thursday night at Ross-Ade Stadium in West Lafayette, Indiana Thursday evening. With 2:22 left in the 4th quarter, Clifford entered the game after a Purdue punt on the Penn State 20 yard line, with the Lions down 31-28, it was do or die time for Penn State. 
Clifford guided the Lions on an eight play 80 yard drive that shed 1:25 off the game clock, where Clifford completed 6 of 7 passes for 72 yards and hit Penn State running back Keyvone Lee for the deciding touchdown with 57 seconds left in the game. 
He finished the game with five total touchdowns (4 passing and 1 rushing) and had 282 yards passing on 20 for 37 passing.
---
Turning Point of the Game
The previous drive where Penn State needed a defensive stand to set up the offense to go on their final drive was the turning point for Penn State. 
Where the Nittany Lions got a break with 2:50 left in the fourth quarter, Boilermakers tight end Payne Durham seemingly made a backbreaking catch for Penn State and giving Purdue momentum and a first down. 
The play went to review and showed Durham used the field to complete the catch and the officials ruled the pass incomplete, stopping the clock and giving the Nittany Lions another opportunity to make a stop. 
On the next play, Boilermaker quarterback Aidan O'Connell targeted wide receiver TJ Sheffield, who got initial separation on the third down play, it was Penn State defensive back Daequan Hardy whose excellent closing speed made up ground with Sheffield and made the key pass breakup to force fourth down and give the Nittany Lions one last opportunity on offense.
---
Penn State Game Ball 
Penn State Secondary (Joey Porter Jr, Keaton Ellis, Daequan Hardy, and Ji'Ayir Brown)
When you talk on an individual basis, it is hard to not give it to quarterback Sean Clifford who had five total touchdowns, but the Penn State secondary really drew the toughest assignment all evening with Purdue's vaunted offense. 
The quartet of Porter, Ellis, Hardy, and Brown combined for 16 solo tackles and 8 passes defended, including Hardy's big pass defense late in the fourth quarter. 
The Nittany Lion secondary also kept O'Connell in check by allowing him to complete only 50% of his passes, considering last season he set the Purdue all time record completing 71.6% of passes. 
Purdue Game Ball
Charlie Jones 
Something in Penn State brings the best out of Jones. Jones had a key touchdown for the Iowa Hawkeyes in their high profile defeat of Penn State 23-20 in Iowa City last season. 
This season with Purdue he was dialed in with O'Connell, Jones finished the night with 12 receptions for 153 yards and a touchdown. Jones was a matchup nightmare for the Nittany Lions, he seems to slip underneath and in between a good Nittany Lions secondary all evening.
---
Game Thoughts
1.) Clifford is a quarterback you will go through a wide array of emotions with during the game. His ability to create plays, look at the Brenton Strange 67-yard touchdown at the end of the first half or the final drive when Clifford was on point. What prevents Clifford from being in that top tier of Big Ten quarterbacks and the nation is consistency. You get the happy feet throws, he misses the open receiver with either lack of touch or puts not enough on the throw, misjudges the window he can throw the ball through, or an ill advised overthrow that led to a Chris Jefferson pick-six. With a running game that is still trying to get back on track, Penn State's success this season will ride and die on Clifford's performance and if he can minimize his varying peaks and valleys and find consistency, Penn State will be successful this season.
2.) As I mentioned in the preview, both teams are almost mirror images of each other when it comes to running the football. Penn State and Purdue averaged at 3 yards a carry last night and while Purdue really never runs the ball, they just happen to. It seemed when Purdue did, running back King Doerue was effective in his opportunities going 15 carries for 57 yards and two touchdowns. For Penn State, it seemed more of the same from last year, freshman Nicholas Singleton looked solid early and fellow freshman Kaytron Allen looked just as good, but one has to wonder if Penn State's committee approach is not allowing running backs to get into rhythm and truly being effective.
3.) Abdul Carter, who new defensive coordinator Manny Diaz has raved about, got the Penn State #11 (worn by LaVar Arrington, NaVarro Bowman, and Micah Parsons) and should be really special one day, his evening was cut short by the targeting rule last night. O'Connell was locating Purdue receiver Tyrone Tracy on the play, as Carter was playing the play out, as the pass fell incomplete, he thought the ball was live and was trying to make a play for the ball. I am a fan of the targeting rule, and I just feel it is going to take more time to evolve this rule, I don't feel Carter's intent was to target Tracy and neither did the FOX broadcasters and rules analyst Mike Pereira.
---
Up Next
Penn State - Sept. 10 vs. Ohio 
Purdue - Sept. 10 vs. Indiana State