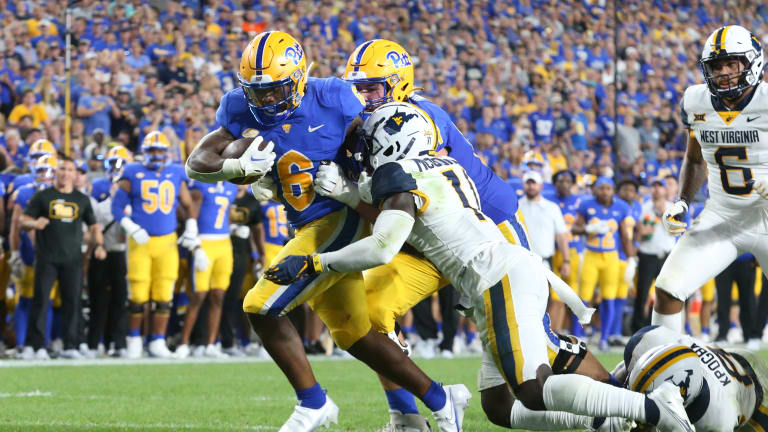 Rapid Reaction: The Backyard Brawl Returns
Mountaineers Fall Inches Short in Pittsburgh 38 to 31.
The first Backayrd Brawl in over a decade lived up to its name by being a heavyweight fight worthy of its primetime slot, in front of an Acrisure Stadium attendance record of 70,622 fans, where the No. 17 Pitt Panthers held off the West Virginia Mountaineers 38 to 31.
Late in the fourth quarter, the Mountaineers faced an 4th and 16 with 27 seconds to go, Mountaineers quarterback JT Daniels fired a desperation heave to intended receiver Reese Smith.

On the field it was ruled a reception at the Panther one yard line, but the officials took a second look and determined Reese did not have possession of the ball. 
The Panthers received the ball after the turnover on downs and drained the final seconds away to secure their first Backyard Brawl victory since a 19-15 victory in 2008. 
---
Turning Point
As the fourth quarter clock ticked to under seven minutes to go, the Mountaineers were up 31-24 and the Panthers made a key defensive stop on WVU running back C.J. Donaldson who fell short of first down yardage on third down to set up a 4th and 1 at the Panther 48 yard line. 
WVU head coach Neal Brown opted to play conservative and take a delay of game for more room to punt. Up to that point, WVU was averaging over six yards per carry. 
Montaineers punter Oliver Straw executed a successful coffin corner kick, he had 3 punts in the 20 for the evening, for the Panthers to start from their own eight yard line.
The Panthers would go on an seven play 92 yard drive that tied the game at 31. 
On the next series, Mountaineers QB JT Daniels threw a pick-six to Panthers CB M.J. Devonshire to give the Panthers a 38-31 lead that they wouldn't relinquish.
---
Pitt Game Ball 
Rodney Hammond Jr. 
As junior Israel Abanikanda had trouble getting going against a stout Mountaineer defensive front, Hammond seemed to be able to get going as he finished with 129 scrimmage yards on 18 touches (16 carries and 2 receptions) with 2 rushing touchdowns. 
Hammond seemed to spelled Abanikanda well getting big chunk plays, the key play for Hammond came on his third quarter scoring play as he went through the Mountaineer defense and physically taking a few defenders with him to score an 11-yard touchdown to put Pitt up 24-17. 
West Virginia Game Ball
Bryce Ford-Wheaton
Ford-Wheaton was all over the field for the Mountaineers and was a key reason WVU was able to stay in the game. 
In the game, Ford-Wheaton finished with 9 receptions for 97 yards and 2 touchdowns, he had a key special teams tackle in punt coverage on Panther receiver/returner Konata Mumpfield that Panther fans felt was a facemask call. 
---
Game Thoughts
1.) As mentioned above, the turning point of this game was Neal Brown not willing to be aggressive enough to go for it on 4th and 1. 
When you have a defense, especially a defensive line up to that point had five sacks and a rushing offense with C.J. Donaldson and Tony Mathis Jr, who combined for 23 carries for 196 yards and a touchdown, came back to bite Brown heavy. Losing games like this, and the one to Maryland to open the 2021 season last year, games that are important to the base to win, is what will eventually doom Brown in Morgantown. 
2.) Speaking of Donaldson, he was also worthy of the West Virginia game ball this evening. He finished the game with 7 carries for 125 yards and touchdown, and added a punt block in the third quarter and then returned a play later to get a rushing touchdown to put the Mountaineers up 17-10. WVU is going to have to lean on Ford-Wheaton and Donaldson this season to be key playmakers.
3.) After Panther defensive lineman Deslin Alexandre left the game with an undisclosed injury, the Panther defensive line was flat for a bit and began to ramp up when redshirt senior John Morgan filled in and began to wreck havoc. It will be interesting what Alexandre's injury is moving forward, but Morgan filled in and made an impact while star lineman Calijah Kancey and Habakkuk Baldonado seemed to get all the attention.
4.) While the Panthers philosophy on offense is to out-muscle the opposition and wear them down, when it comes to the vertical game, the Panthers still have questions. I don't know if it was the Mountaineer secondary's ability to lockdown Panther receivers, or it was the Panther receivers inability to get open, but if Pitt has aspirations to repeat as ACC Champions, they will need to fix that and in a hurry.
5.) Another thing the Panthers really need to fix is the poor punting performance Sam Vander Haar had. While Vander Haar, managed to average 42.3 yards per punt and get 2 punts in the 20, you cannot ignore the shanked punt in the first quarter and the blocked punt in the third quarter. 
6.) Mountaineer left tackle Wyatt Milum made his first start at left tackle and it was an adventure for the sophomore tackle. In the first quarter, Milum committed three penalties, two false starts and a personal foul, he managed to settle in and help silence elite Panther defensive lineman Habakkuk Baldonado. 
7.) Dante Stills, Jared Bartlett, and Jordan Jefferson had big nights for the Mountaineers and were part of the reason WVU was trying to engineer the upset. Stills displayed for a national audience why he will be playing on Sundays in the NFL, he at one point had 5 tackles, 1.5 tackles for loss, and a sack. You couldn't ask for anymore out of him.
8.) The beauty of college football was on display for Panther wide receiver Bub Means. Means fumbled early in the game. While the Panthers were able to force another turnover, Pitt got Means back involved and picked him up. Where it turned out great for the Panthers, was on Hammonds 49 yard reception, it was Means who threw a key block to spring Hammonds. 
---
Up Next
Pitt - Sept. 10 vs. Tennessee 
WVU - Sept. 10 vs Kansas